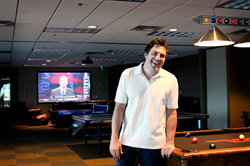 The Microchip technology is still in its infancy," said Hope, "the possibilities of where this can go are really quite astounding
(PRWEB) March 18, 2015
After about a year of development, Microchip Technology Inc. has announced the launch of a new wireless technology that enables low-range, low-power communication for data services. Jason Hope comments on the development of this new technology and its impact on the Internet of Things.
According to an article in Phoenix Business Journal entitled "Microchip releases wireless tech to enable Internet of Things Devices," Microchip Technology Inc., has announced the first modules for its LoRa (long range) technology which will extend the range of machine to machine wireless communication to over 10 miles. By connecting millions of wireless sensor nodes to the LoRa technology gateways, an increasing number of devices will be able to communicate with one another and with other connected devices, without a huge drain on power resources.
In the article, Eric Lawson (@EricVLawson) of Microchip said that the new technology would serve applications that needed long range without a large chunk of data or bandwidth. In the past, according to Lawson, "you could have long range but then power consumption was very high, or you could have a wireless device that gave you great power but the range was not good. This gives you both for the very first time: long range and low power."
"One of the primary applications of the Internet of Things outside of consumer convenience is in communication from machine to machine," stated Jason Hope, entrepreneur and futurist from Scottsdale. "One of the drawbacks to this application is the challenge of communication across distances. These advances in LoRa technology may help deal with this problem.
In the March 12 article, Phoenix Business Journal reporter Hayley Ringle (@PhxBizHayley) indicated the technology could also be used to create a public infrastructure in which a telecommunications company could sell data services to a rural area, allowing customers to connect a variety of Internet of Things devices in the network, similar to the way cell phone customers pay for text messages in a data communication plan.
"The Microchip technology is still in its infancy," said Hope, "the possibilities of where this can go are really quite astounding."
About Jason Hope
Jason Hope, entrepreneur, philanthropist and futurist, resides in Scottsdale, Arizona, where he uses his resources to fuel research into medical opportunities that will make life easier and extend the lifespan of people, both in Arizona and the rest of the world. Learn more about his work at http://www.jasonhope.com.