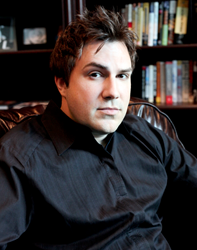 While we do not want to see a large amount of regulation infringing on freedom of development, we also want to ensure that people can use the Internet of Things safely
(PRWEB) March 30, 2015
It's easy for someone to forget about privacy when heading to the smart refrigerator and search for a recipe, but according to a report by Nextgov.com, the Federal Trade Commission is no longer looking the other way. On Monday, March 23, the Federal Trade Commission announced the creation of the Office of Technology Research and Investigation, a new arm of the FTC designed to tackle the security of big data and the Internet of Things. Jason Hope, entrepreneur from Scottsdale, believes this may be an important move to making the growing Internet of Things secure.
According to the March 23 report by Hallie Golden entitled "FTC Launches Investigative Arm to Tackle Internet of Things, Big Data," the Office of Technology Research and Investigation grew from the FTC's mobile technology unit, which the agency created to address consumer security challenges the mobile world created. As the mobile world and Internet of Things has grown, so has the need for security. The new office will bring the experts from the mobile technology unit together with other experts in the field to look at security and data issues.
"This move has the potential to answer some of the serious and difficult questions created by the Internet of Things," stated Jason Hope. "While we do not want to see a large amount of regulation infringing on freedom of development, we also want to ensure that people can use the Internet of Things safely."
The new unit will have Kristin Cohen, who currently is the chief of the mobile unit, as its leader. It will have lawyers as well as technology experts on its team. The agency intends to blog about its research, and much of the initial research will revolve around privacy and security of smart home technology, such as refrigerators and coffee makers.
About Jason Hope
Jason Hope watches the development of the Internet of Things with great interest. This Arizona native believes that the Internet of Things has great potential to make life easier and more convenient in the future. Learn more about his work and research at http://www.jasonhope.com.