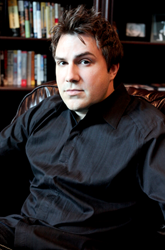 For tech professionals who understand big data, the cloud, mobile technology and how these all play together, the future is bright
(PRWEB) April 02, 2015
As the first quarter of 2015 ends, companies are looking at how the Internet of Things has impacted their business, and Huffington Post comments on some of the changes seen in the past quarter. Jason Hope, Arizona entrepreneur and tech expert, agrees with the Huffington Post piece that the Internet of Things has grown into a major player in the workplace.
According to the article entitled "Here's How the Internet of Things Will Impact How We Work," published on March 23 by Beverly Macy, the newest millennial workforce is the largest generation yet to be fully digital and mobile. It's these Millennials that are invading the workforce, and bringing with them their dependence on technology and the desire to change industry with that technology. Jason Hope points out that many companies are also eager to see these changes.
"As the piece points out, you have wrcompanies like IBM, Intel and GE who are pushing hard to work the IoT into every part of their businesses, from managing inventory to tracking the behavior or customers," he said.
So how will this change the workplace? First, the article states that data is going to reign supreme in the coming years. Also, IT professionals who understand the Internet of Things are going to find more and more job opportunities, as companies are going to need professionals to keep their connected devices secure and running well. Security is going to become an even greater concern, as important systems will be connected via the Internet of Things and vulnerable to hackers.
"For tech professionals who understand big data, the cloud, mobile technology and how these all play together, the future is bright," says Jason Hope. "job opportunities are going to continue to grow as companies start to rely on the Internet of Things with increasing intensity as we move forward."
About Jason Hope
Jason Hope resides in Scottsdale, Arizona, where he uses his wealth to promote research into the Internet of Things and ways in which it can improve the future of the human race. He also supports medical research and other tech projects he believes will make the future better and brighter. Learn more about his recent work at http://www.jasonhope.com.