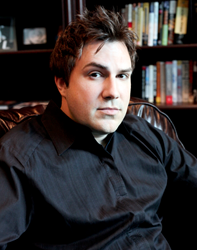 If they cannot do so certain that they are secure, they are going to avoid adding these devices into their homes
Scottsdale, AZ (PRWEB) April 17, 2015
Safety is again in the minds of people researching the Internet of Things, as PCWorld reports on the security flaws found in Internet of Things smart home devices. Jason Hope, futurist from Arizona, believes that these flaws, while minor, may make it difficult for consumers to be willing to accept the Internet of Things in their lives.
According to Lucian Constantin's April 7 article entitled "Researchers show that IoT devices are not designed with security in mind," a research team from application security firm Veracode took six up-to-date smart home devices and searched them for security issues. Five out of the six had serious flaws that could lead to a breach of security for the user.
The devices, which included the SmartThings Hub, Chamberlain MyQ Garage, Chamberlain MyQ Internet Gateway, the Ubi from Unified Computer Intelligence Corporation, the Wink Relay and the Wink Hub, all used remote control and monitoring to control home automation devices and sensors.
"These findings are important to the home consumer," said Jason Hope, "because these are the areas that people want to use the Internet of Things in their homes. If they cannot do so certain that they are secure, they are going to avoid adding these devices into their homes."
The researchers looked for the communication protocols and implementation processes that were required to use these devices. The connections between the users and the cloud and the devices themselves and the cloud were searched for potential vulnerabilities. The researchers found that all devices with the exception of SmartThings Hub failed to enforce strong passwords, and some left devices open to man-in-the-middle attacks. The security for connections between the devices and the cloud were even more vulnerable.
The article points to a misguided trust in the security of home networks which is causing manufacturers of IoT devices to leave these holes open. It, therefore, is up to the consumer to ensure that proper security measures are taken to ensure that the device are not allowing hackers into homes.
About Jason Hope
Jason Hope resides in Scottsdale where he spends his time watching the development of the Internet of Things. A successful entrepreneur and futurist, he also works to promote research into health innovations that can slow aging. Learn more about him and his work at http://www.jasonhope.com.