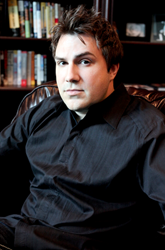 Point your customers toward the umbrellas and rain boots to boost sales
Scottsdale, AZ (PRWEB) April 17, 2015
IBM and The Weather Company have created a strategic relationship that could bring a new dimension to the Internet of Things, according to Fortune. With this new partnership, businesses will be able to make changes to merchandising or services provided to customers based on the weather forecast. Jason Hope, a futurist and tech expert from Arizona, feels that this partnership shows just how far-reaching the Internet of Things can really be.
According to the article "IBM's Latest Bet: $3 Billion on the Internet of Things," which Heather Clancy wrote and which was published on March 31, The Weather Company, parent of WSI and the Weather Channel, will be moving their weather data service into IBM's cloud. Once the move is made, IBM will use the WSI platform to provide retailers, insurers, utility companies and other customers with an analytics service.
"In theory," said Jason Hope, "you could set up a system that automatically adjusts what is being advertised in a retail location based on the forecast. Do you anticipate a thunderstorm? Point your customers toward the umbrellas and rain boots to boost sales."
An insurance company could alert its customers to seek shelter for their vehicles when a hail storm is approaching, saving the company around $25 per policy simply for offering this service in areas where hail happens frequently.
This is just one of many examples of places where IBM is investing time and resources into the Internet of Things. To help, IBM has created an Internet of Things business unit, a place where it plans to invest around $3 billion between now and 2019, so it can take advantage of the tremendous growth of the Internet of Things in the coming years.
About Jason Hope
Jason Hope, an Arizona native, spends his resources earned through his work as an entrepreneur to invest in the Internet of Things and promotion of medical advances that are slowing the aging process. Learn more about the projects he is currently sponsoring at http://www.JasonHope.com.