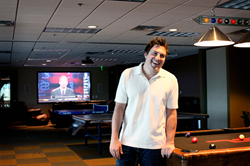 This funding is indicative of the future push in the Internet of Things as it grows
Scottsdale, AZ (PRWEB) April 20, 2015
What will it take to connect everyday things to the growing Internet of Things? A recent report on Venture Beat indicates Movidius appears to think that it will be visual sensors for the Internet of Things. According to the article, the company has used that vision to raise $40 million in funding. Jason Hope, futurist and entrepreneur from Arizona, believes that they may be on the right track towards what the Internet of Things needs for success.
This $40 million investment is one of the biggest investments in the history of chip design, according to the April 14 article by Dean Takahashi entitled "Movidius raises $40M to make visual sensors for the Internet of Things." In the article, Takahashi discusses an investment led by Summit Bridge Capital with new investors Sunny Optical Technology Group and Arch Venture Partners. Together, these groups raised the funds, which will be used to help Movidius further develop a vision processor for mobile and connected devices.
According to the article, Movidius will use the financing to bring new innovations to the software and hardware used in visual sensing. The target market for the technology is virtual reality headsets, home automation, wearables and drones. In order to make these devices smarter, they must be given vision, which is what Movidius is attempting to do.
"If Movidius can be successful in making visual sensing a reality, the Internet of Things will really take off," says Jason Hope. "The devices will be more useful and 'smarter,' and more people will invest in them as a result. This funding is indicative of the future push in the Internet of Things as it grows."
The article indicates, however, that Movidius is facing one giant hurdle. The company's Myriad family of chips must be made smaller, cheaper and less power-hungry in order for them to be usable.
Abut Jason Hope
Jason Hope studies the development of the Internet of Things and the technology it is bringing to the market from his home in Scottsdale, Arizona. The entrepreneur also uses his resources to support research and development in the medical field. His goal is to help make the world safer, smarter and healthier. Learn more about his work at http://www.jasonhope.com.