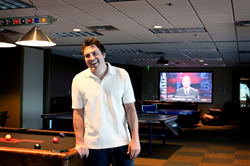 By making these changes now, the company may emerge as a leader in the security industry, rather than falling behind as it did in the smartphone race
Scottsdale, AZ (PRWEB) May 07, 2015
BlackBerry may have lost the smartphone race, but a recent article on ZDNet indicates the company may be pushing for a leadership position in mobile device management and security services. According to the article, BlackBerry has announced a managed certificate service that will help secure a variety of Internet of Things devices, helping tackle some of the security concerns that developers must handle. Jason Hope believes this is a step in the right direction toward helping overcome the security concerns and questions facing the modern Internet of Things world.
In the April 22 article entitled "BlackBerry expands its security smarts to the Internet of Things," Kevin Tofel from Mobile Platforms told ZDNet that BlackBerry would be using its subsidiary Certicom to handle this managed certificate service. The article also stated that Certicom had already issued certificates used in smart parking meters in the UK. In addition, Certicom has issued 60 million certificates over the past seven years, so the technology is not new. What is new is the fact that BlackBerry plans to scale up this service to support hundreds of millions of IoT devices.
"That's a key aspect," said Tofel, "given that more and more everyday devices are gaining some type of connectivity." He continued to quote a Gartner forecast that indicates an expected 25 billion connected devices over the next five years. BlackBery's move to ramp up its managed certificate service positions it to tap into the potential of this growing market.
"This early move is a good one for BlackBerry," says Jason Hope. "By making these changes now, the company may emerge as a leader in the security industry, rather than falling behind as it did in the smartphone race."
BlackBerry's move to capitalize early in the Internet of Things begins with security. If it gets its foot in the door with security, the technology giant may be able to move forward in other areas as well.
About Jason Hope
Jason Hope is a philanthropist and successful entrepreneur who resides in Scottsdale, Arizona. He watches the technology industry with great interest and makes predictions about the potential of the Internet of Things and how it will help everyday life. He also supports projects to support his local community. Learn more about Jason at http://www.jasonhope.com.