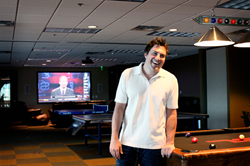 This mixture of the Internet of Things and a sharing economy may make retirement safer and more affordable
Scottsdale, AZ (PRWEB) May 10, 2015
In a recent article, the Wall Street Journal talked about how the future of old age is changing through the power of the Internet of Things. Jason Hope indicates that the facts discussed in this article are in line with his beliefs that the Internet of Things is going to make the future of mankind more comfortable and convenient.
According to Joseph Coughlin's April 30 article entitled "How the Internet of Things Will Transform Retirement," the growth of connected devices, specifically in the home, is going to make it easier than every before for older adults to stay on top of daily life. Add to this equation the growing interest in a sharing economy, where people share resources and items instead of owning them, and the future of the retiree is certainly an interesting one.
"This mixture of the Internet of Things and a sharing economy may make retirement safer and more affordable," say Jason Hope. "People will be able to stay at home longer in this way."
The article describes a retirement where retirement living solutions from companies are delivered to homes through specialized services for a monthly fee. Instead of having to leave the home to go shopping, retirees can stay comfortable at home and have what they need delivered to them. Then, sensors in the home can even monitor health, with glucose data for diabetic patients taken from the toilet and carpet sensors detecting changes in gait that may indicate a health problem and sending an alert to the doctor. Prescriptions are automatically renewed and delivered as needed, ending the need for the retiree to remember these details.
"Do these changes sound like something out of a science fiction move? Of course they do," says Jason Hope, "but the technology is not as far fetched today as it once was. This very well may be the future of the modern retiree."
About Jason Hope
Jason Hope is an entrepreneur and futurist who resides in Arizona. He predicts that the Internet of Things is going to be a major player in the future world. Learn more about his work at http://www.jasonhope.com.