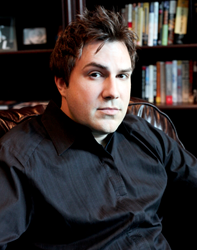 While they may use more energy than the manual thermostats of past generations, they save much more when used correctly
Scottsdale, AZ (PRWEB) May 13, 2015
Google executives believe that the Internet of Things is poised to help people and companies save energy, according to a recent Wired.com article. Jason Hope, futurist and entrepreneur, says that this goes against conventional thinking, which says that the Internet of Things will actually increase energy use as more and more machines are connected to the World Wide Web, using energy as they communicate with one another. However, Hope and Google agree that the energy savings created may overcome the energy spent using the devices.
In the April 29, 2015 article entitled "Google Says the Internet of Things' Smarts Will Save Energy," which Ariel Zambelich wrote, Urs Holzle, director of Google's worldwide network of data centers, stated he believes the increased efficiency brought by connected devices will help counter the additional energy use created through using them. Holzle told reporters, "I'm pretty confident that the Internet of Things is going to have net negative power consumption. . . . If you control lights, heat, and cooling in a smarter way, that's really sustainable."
"This makes sense," says Jason Hope. "Think about the amount of energy saved by smart thermostats, as just one example. While they may use more energy than the manual thermostats of past generations, they save much more when used correctly. Now, add the internet of Things to the mix and let homeowners access their settings remotely, and you increase the savings potential even more. Other devices offer similar potential."
Of course, all of this is simply conjecture at this time, and the article indicated that certain caveats could make or break the savings. For one, users will need to use devices efficiently for the benefit to be seen. Also, data centers, which move the data flowing through the Internet of Things, will need to operate as efficiently as possible, and even learn to share with competitors at times.
About Jason Hope
Jason Hope is an entrepreneur, futurist and philanthropist who lives in Arizona and watches the development of the Internet of Things with extreme interest. Learn more about his work and his contributions to the field of technology by visiting http://www.jasonhope.com.