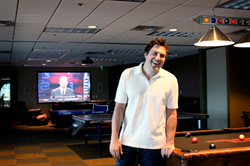 Using data from the newly installed sensors, Cisco could, in theory, reduce energy consumption by streamlining business operations
Scottsdale, AZ (PRWEB) May 19, 2015
With more and more companies jumping on the Internet of Things bandwagon, it's those companies who are willing to test and stand behind their products that are getting the most attention. Cisco has decided to test implementing sensors in its plant in Malaysia to test the products they are promoting. The Wall Street Journal recently published an article about this test. Jason Hope, entrepreneur and futurist from Arizona, indicated that the project showed great potential to help reduce energy consumption.
According to the May 13 article from Loretta Chao entitled "Cisco Tests Internet of Things in Its Supply Chain," John Kern, the senior vice president of supply chain for Cisco Systems, indicated that the company would be using the Internet of Things to help reduce energy consumption in its own production sites, with a hope of reducing energy use by 20 to 30 percent.
Cisco plans to implement several test projects at one Malaysia location to help find innovative solutions that will work to cut energy use. The project will cost less than $700,000 to implement, but if successful, will bring millions of dollars in cost savings when passed on to other parts of the Cisco company.
"It's an interesting proposal," says Jason Hope. "Using data from the newly installed sensors, Cisco could, in theory, reduce energy consumption by streamlining business operations. However, they are implementing so many different ideas that some are sure to be unsuccessful."
Cisco has come to terms with that risk, according to the Wall Street Journal. In fact, the project's planners expect most of the projects to fail. It's those that succeed that will lead to the energy savings.
"If more companies are willing to make tests like this," says Hope, "the potential benefit of the Internet of Things in manufacturing and development will be realized much more quickly."
About Jason Hope
Jason Hope is a resident of Arizona, where he uses his resources as an entrepreneur and investor to promote actions that benefit the local community. He follows the development of the Internet of Things with great interest, and anticipates that the growth of this particular sector of technology will have a great impact on the future. Learn more about his work and predictions at http://www.jasonhope.com.