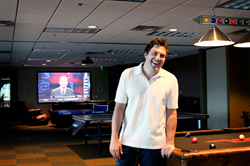 Too many companies are scrambling to get their piece of it, and it leaves consumers confused
Scottsdale, AZ (PRWEB) May 28, 2015
Sensors, and the Internet of Things they power, are quickly taking over the world, but Venture Beat warns that a lack of a common platform between the devices that use these sensors is causing confusion. Jason Hope agrees that this is one of the hurdles the Internet of Things must overcome.
In a post entitled "Too Many Platforms May Make the Internet of Things a Confusing Place," posted on May 21, Mark Sullivan comments on this problem. He points to the devices and platforms announced at the May Internet of Things World Conference in San Francisco, where multiple manufacturers announced their own IoT integration platforms, including Artik from Samsung and LiteOS from Huawei. Reports of Google building Brillo have also added to the confusion among the Internet of Things in recent weeks.
The problem is that all of the different IoT platform developers want to get their own OS or software onto the devices consumers are buying. Those that succeed can potentially make a substantial amount of money, but right now the market is getting confusing. "Too many companies are scrambling to get their piece of it, and it leaves consumers confused," warns Jason Hope.
"We may have a time when consumers have to go through a number of product certifications before they can actually use the devices they buy," warns Hope. "And then we will have consumers with devices that don't play well together. This is going to cause frustration."
What is the solution to this frustration? The Venture Beat article seems to think it is time. With enough time, some clear OS and IoT platform winners will come to the forefront, and consumers will have fewer names to contend with. There simply will be a period of confusion until the dust clears and that happens.
About Jason Hope
Jason Hope watches the development of the Internet of Things with great interest from his home in Scottsdale, AZ. He believes in using his resources to promote a better future for his community, and feels that the Internet of Things could make that possible. Learn more about his work at http://www.jasonhope.com.