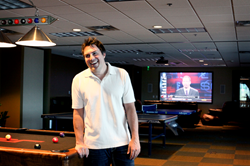 Hopefully this most recent tragedy will cause people and railroad officials to stop and think about what needs to be done to prevent it in the future
Scottsdale, AZ (PRWEB) June 03, 2015
In the weeks after the Philadelphia area Amtrak crash that took eight lives, many fingers have been pointed, but Forbes has a claim that a lack of Internet of Things technology in the railroad industry may be the reason for this potentially preventable tragedy. Jason Hope, futurist and entrepreneur, feels that Forbes has a good point in retrospect, and hopes that the potential good to come from the tragedy may be a change in the technology in the railroad industry.
In a May 18 article entitled "Amtrak Derailment Demonstrates Potential Value of Internet of Things," Michael Hickins of Forbes discusses the technology that could have stopped this tragedy. "Like the recent tragic MetroNorth accident outside New York City, it is likely that the derailment of an Amtrak train near Philadelphia. . . which so far has cost eight lives, could have been prevented if the right technology had been in place," he said in the article.
According to Hickins, that technology is the Internet of Things. Installing tiny sensors on trains and railways could have alerted officials to the problems that led to the derailment. In fact, Union Pacific, a freight train company in the western half of the country, already does this. Union Pacific trains have sensors that measure acoustics and use that data to determine if the wheel bearings are in trouble. Since installing the systems, derailments dropped by 75 percent.
"The technology is there," said Jason Hope. "We just need to see it implemented across the railroad industry. Hopefully this most recent tragedy will cause people and railroad officials to stop and think about what needs to be done to prevent it in the future."
The Internet of Things shows great potential to help humanity, and in the case of the railroad industry, to save lives.
About Jason Hope
Jason Hope resides in Scottsdale, where he watches developments in the technology field with great interest. He is an entrepreneur who uses his vast resources to promote research into developments that will improve the future of humanity. Learn more about his work at http://www.jasonhope.com.