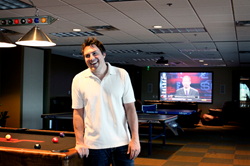 Much of the focus of the growth of the Internet of Things is on the devices themselves, and with good reason
Scottsdale, AZ (PRWEB) June 12, 2015
The Internet of Things is growing, but much of the focus has been on the growth of the number of connected devices, not the value. This has changed with a recent article on Market Watch, which predicts that the Internet of Things market will grow to a value of $1.7 trillion by 2020. The growing number of devices combined with the growing number of platforms and software programs to power those devices will combine to create this strong market. Jason Hope believes this prediction is right on target with what he is seeing in the market.
According to the June 2 article entitled "Internet of Things Market to Reach $1.7 Trillion by 2020," by Steven Norton, research firm IDC predicts that connected devices, called "IoT endpoints," could grow from 10.3 million in 2014 to 29.5 million in 2020. Devices, the IT services and the connectivity they need, are the majority of what will create the market around the Internet of Things.
About the article, Jason Hope said, "Much of the focus of the growth of the Internet of Things is on the devices themselves, and with good reason. It's also valuable to look at what those devices will do to the economy as the financial market surrounding the Internet of Things grows as well."
Interestingly, Market Watch predicts that the Asia Pacific region will continue to rule the Internet of Things market, but at a slightly smaller rate, in 2020. North America is expected to retain just over a quarter of the market, with Western Europe jumping to over 19 percent from its current rate of 12 percent.
About Jason Hope
Jason Hope works as a philanthropist from his home in Scottsdale, AZ. He uses his resources to promote changes he believes will make the future of mankind better. These include advances in technology that will make life more convenient and comfortable, as well as changes in healthcare to help combat aging and chronic disease. He is an advocate of the growth of the Internet of Things. Learn more about his work at http://www.jasonhope.com.