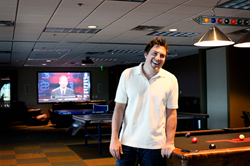 We must have a standard in place that facilitates communication from machine to machine and machine to sensor, even across different manufacturers
(PRWEB) June 27, 2015
The United Nations typically concerns itself with warfare and peace treaties, but a new study group reported in the Register is going to go into a new front, the Internet of Things. A UN-run International Telecommunications Union has now created a study group focused on finding an international standard for Internet of Things communications, with a focus on allowing low-power communication between machines and sensors. Jason Hope, entrepreneur and futurist from Arizona, says that this study group shows the importance of standardization in the Internet of Things.
According to Kieren McCarthy's June 17 article entitled "United Nations Sends Peacekeeping Forces to Internet of Things War," Study Group 20 will be given he task of studying the Internet of Things and its various applications. Its primary focus at the beginning will be to study standards that use IoT technologies in urban development. The end goal is to establish an end-to-end architecture for the Internet of Things.
The current definition of the Internet of Things, according to the article, is a platform with a wide range of sometimes competing standards. "There are a variety of technologies competing for the ability to connect the various smart devices on the market and already in play." Says Jason Hope. "To date, most companies are using their own standards, creating a confusing mess with competition on all sides as companies vie for a place in the coming onslaught of Internet of Things devices."
"The fact that the UN has taken notice of this new kind of war," continues Mr. Hope, "shows just how bitter the battle for a standard has become. If we are going to use this technology to build smart, sustainable cities, which would be in line with the goals of the UN, we must have a standard in place that facilitates communication from machine to machine and machine to sensor, even across different manufacturers."
While it may seem that tech is outside of the range of expertise of the UN, the article references the fact that the ITU has developed several standards still used today, including standards for JPEG file compression, MPEG videos, DSL broadband and PKI security. "These companies may be the right organizations to tackle the concerns created with lack of standardization across the Internet of Things." Mr. Hope concludes.
About Jason Hope
Jason Hope is a tech expert residing in Arizona. He works hard to provide for the needs of local and state organizations, and focuses much of his work on the Internet of Things and the development of future technology. Learn more about him at http://www.jasonhope.com.