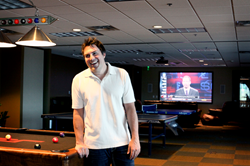 Imagine a future where long check-in lines at the airport are gone, replaced by people checking in themselves on their smartphones
Scottsdale, AZ (PRWEB) June 30, 2015
Flying is about to get less stressful, thanks to the Internet of Things, says a report on Skift. Jason Hope, tech expert and entrepreneur from Arizona, believes that the possibilities are quite good, and that the article has successfully embraced the potential that the Internet of Things offers to the frazzled airline traveler of tomorrow.
According to the June 19 article entitled "3 Ways the Internet of Things Will Make Flying Less of a Hassle," written by Skift writer Marisa Garcia, apps and beacons in the airline industry is making the modern traveler's job just a little easier. It starts with finding the way through an airport. Using an app and beacons throughout the airport, travelers will be able to use their phones to guide them to their gates, using the app to get help from airport staff when it is needed and improving the chances of people arriving on time to their gates.
The Internet of Things can also help travelers track their luggage. When a bag is not where it should be, sensors and Internet of Things connected apps can help track it down, reuniting travelers and their bags more quickly.
Finally, the Internet of Things will allow more airlines to streamline the booking process. The article estimates that by 2018, nearly three-quarters of the airlines will offer self-service bag drop, compared to just 17 percent today. Apps that allow travelers to enjoy duty-free shopping, book car service and improve the overall retail experience will also improve the travel experience, as well as the income reported by the airlines.
"Imagine a future where long check-in lines at the airport are gone, replaced by people checking in themselves on their smartphones. This is the reality that the Internet of Things offers to the airline industry, and it is a great potential future for weary travelers who are tired of waiting in endless lines just to board their airplanes," says Jason Hope.
These changes are coming quickly, so those planning travel in the future can expect to see more technology making its way to the airports they know and love.
About Jason Hope
Jason Hope watches the development of the Internet of Things from his home in Scottsdale, Arizona. As a successful entrepreneur, he is able to use his resources to support the local community and developments in healthcare and technology that improve the future of mankind. Learn more about his work at http://www.jasonhope.com