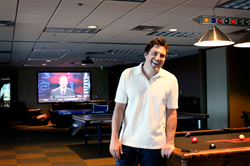 For women who are having trouble conceiving and need the help of technology to succeed, Wink is a simple way to make the job just a little easier
Scottsdale, AZ (PRWEB) July 03, 2015
Timing is key to getting pregnant, and an Internet of Things device, Kindara's Wink, makes it easier according to an article from Denver Post. Jason Hope, futurist from Arizona, points to the Wink as an example of a device that makes life smarter and easier for the modern individual.
According to the June 26 article entitled "The Internet of Things device that helped 75,000 women get pregnant," by Tamara Chuang, Tech Reporter from the Denver Post, 75,000 people used Kindara's Wink to succeed in getting pregnant, including over 760 in one week alone. The device is also being used by many to ensure that they do not get pregnant. With precise timing and convenient recording features, Wink ensures that women know when their most fertile times are.
Using a thermometer that is four-times faster than most on the market today and provides precise measurements of body temperature, Wink lets women see the slight changes that indicate they are fertile. The device also has a mobile app that helps women track their cycles, so they can better predict when they should or should not try to conceive. Wink also has Bluetooth technology, which automatically records body temperature to the included app.
"This is an exceptional example that shows how the Internet of Things is going to make some of life's most simple tasks, like starting a family, easier and smarter," said Jason Hope. "For women who are having trouble conceiving and need the help of technology to succeed, Wink is a simple way to make the job just a little easier."
And it works. With thousands of women using the device, which is still in the startup phases, to successfully conceive, it will likely become part of the modern world of conception, fertility and parenting very soon. The developers currently have a Kickstarter campaign out to help fund the development of the device.
About Jason Hope
Jason Hope resides in Arizona, where he uses the wealth he has created as an entrepreneur to support research into the development of the Internet of Things. He also supports research into medical innovation that makes the aging process less damaging and difficult. Learn more about his research at http://www.jasonhope.com.