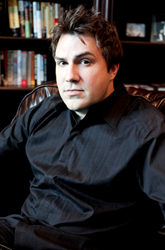 This creates the potential to actually power small electronics with solar power, which is huge in the Internet of Things world
Scottsdale, AZ (PRWEB) July 09, 2015
Two MIT engineers, Dina Reda El-Damak and Anantha Chandrakasan, have released a circuit they claim can provide solar power for small connected devices, according to a CNBC article. The engineers believe this is key to the growth and sustainability of the Internet of Things. Jason Hope, futurist and entrepreneur from Arizona, sees real promise in the technology and its potential to help fuel the growth of the Internet of Things
In the June 24 article entitled "Big step toward solar power for small electronic devices," Robert Ferris of CNBC talks about a device released at the Symposia on VLSI Technology and Circuits, held earlier in June in Kyoto, Japan. At the Symposia, the engineers showed a chip that is effective in converting solar energy into usable electricity, providing an improvement over the current technology and creating the potential for smaller devices that do not rely on battery power.
"This is not your calculator charging panel," said Jason Hope. "This technology allows the device to convert 80 percent of the solar energy it contains to usable electricity. This creates the potential to actually power small electronics with solar power, which is huge in the Internet of Things world."
The ultralow-power circuit is able to charge batteries connected to devices, as well as power the devices themselves. The application of this device means giving people the ability to use their devices without using much power at all. This also reduces the cost of using a connected device.
The study received funding from Texas Instruments Fellowship for Women in Microlectronics. Taiwan Semiconductor Manufacturing fabricated the chip. Prior to this presentation, the technology available in this child had alluded researchers.
About Jason Hope
As an entrepreneur and philanthropist, Jason Hope spends his time researching innovation that powers the Internet of Things. He believes in the power of technology to make life more convenient, but also believes that the development of that technology needs to happen carefully to preserve security. To learn more about his work, visit http://www.jasonhope.com.