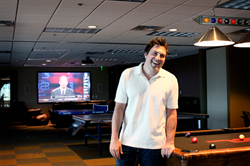 In many ways, a college campus is like a micro-city
Scottsdale, AZ (PRWEB) July 18, 2015
There's no denying that the Internet of Things needs to be tested, and Google has partnered with Carnegie Mellon University to build a testing ground according to a Business Insider article. Through a $500,000 grant and access to Google Internet of Things technologies, Google is assisting the Pittsburgh school in testing some of the solutions designed to make the Internet of Things more effective and safe. Jason Hope, futurist and tech guru from Arizona, believes this partnership could be a positive one.
In the July 13 article entitled "Google is helping build an Internet of Things campus," John Greenough of Business Insider indicated that the partnership would allow the university to use many smart items throughout its campus. Everything from coffee pots in the coffee shops to the terminals at bus stops will be equipped with sensors to not only make them function more intuitively but also collect data about the students and their choices. The need result may be the implementation of similar technology in the city as a whole.
"This is an interesting test case," said Jason Hope in regard to the article. "In many ways, a college campus is like a micro-city. By testing the technologies on campus, Google will be able to deal with problems, adjust security features and make the final tech something that will be truly useful on a city-wide basis."
The main goal of the project is to create a platform that will allow devices to connect with each other. A student, for instance, could have a connected alarm that tells the coffee pot what time to have the coffee ready in the student's dorm. Unfortunately, the inability for one device to connect to another is one of the major problems the current Internet of Things market is dealing with. Fixing this problem and creating a universal platform will make the Internet of Things more valuable in the global economy.
About Jason Hope
Jason Hope is a futurist and entrepreneur in Arizona who believes in the power of technology to improve the lives of people in the future. He watches the development of the Internet of Things with great interest. He also uses his wealth to assist with research and development for projects aimed at improving the future of the human race. Learn more about his work at http://www.jasonhope.com.