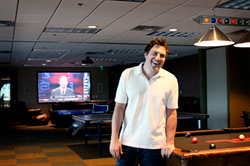 t's one thing to have an opt in, but it's another to make it a truly optional opt in. If people don't have to opt in, then their privacy is truly protected
(PRWEB) July 27, 2015
Consumers have much to fear with the growth of the Internet of Things, and the "Spy Car Act," a new bill being proposed in the Senate, aims to take on the concern of spying on "smart" cars. According to a report in MediaPost, a group of Democratic senators have proposed a privacy bill that will prohibit car manufacturers from using the data they collect from vehicles to market or advertise, without consent to from the car's owner. Jason Hope, futurist from Arizona, believes that this is a step in the right direction towards improving privacy relating to the Internet of Things.
In the July 21 article entitled "Lawmakers Take On Internet of Things With New 'Spy Car Act'," Wendy Davis of MediaPost explores the details of the bill. According to the bill, the auto industry has already adopted a voluntary privacy code that prohibits the makers of connected cars from mining certain data about drivers without the drivers opting in and giving their consent. The bill makes certain that car manufacturers cannot require drivers to opt in before using any of the features in the car.
"This is a crucial part of the legislation," says Jason Hope. "It's one thing to have an opt in, but it's another to make it a truly optional opt in. If people don't have to opt in, then their privacy is truly protected."
The privacy code comes from the Alliance of Automobile Manufacturers and Association of Global Automakers. The Spy Car Act protects consumers from being forced to agree to that data collection, as well as adding protection to prevent hacking while drivers are on the road. If passed, the law will ask the National Highway Traffic Safety Administration and the FTC to help develop cybersecurity standards for smart vehicles.
"This legislation is important," says Hope. "Only time will tell if it offers enough privacy, but it will help keep drivers of vehicles with connected technology protected."
About Jason Hope
Jason Hope, futurist and entrepreneur from Scottsdale, believes that the Internet of Things has the power to improve the future of the human race. He uses his resources to support research into these changes. Learn more about his work at http://www.jasonhope.com.