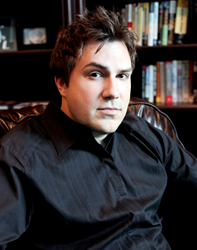 Sigfox is basing its success on optimizing a network that meets the needs of most IoT devices, thus making it possible to get as many connections as possible and keeping the cost low
(PRWEB) July 30, 2015
Consumers who have constantly wished for an easier way to connect their devices and smart products to each other and the sensors they need to work, which is the basic design of the Internet of Things, which will now have a new network as reported in a recent article in Fortune. According to Fortune, Sigfox, a European based startup, is setting up sensors that are making this connectivity a reality. Already live in Europe, the startup is coming to the U.S. this year. Jason Hope, futurist and entrepreneur from Arizona, is watching these changes with great interest.
According to the July 21 article on Fortune entitled "Meet the French Startup Set to Revolutionize the Internet of Things," by Kevin Fitchard, Sigfox has the potential to replace the cellular-based connectivity that is most commonly used in the United States. Because of the expense of deploying and maintaining cellular data connections, and the amount of power it takes to keep cellular radios connected, the current system is not a sustainable one.
On the other hand, embedding Sigfox into a device costs just $2, according to the Fortune piece. Keeping devices active on the network is affordable too. If Sigfox can connect enough devices, it can offer low prices that significantly beat the current price of the cellular connection.
"This is an interesting model," says Jason Hope. "Sigfox is basing its success on optimizing a network that meets the needs of most IoT devices, thus making it possible to get as many connections as possible and keeping the cost low.
The difference between Sigfox and the current system is that Sigfox is tapping into the Industrial Scientific and Medical band of the spectrum, instead of the cellular spectrum. The bandwidth is low and can only send short messages, but those short messages are sufficient to send GPS coordinates or small packages of data. In other words, Sigfox can power many "smart" everyday devices without the high cost of other connectivity.
"In theory," says Hope, "bringing down the price low enough, it will be simple to add sensors to everyday objects, making the Internet of Things a true reality."
About Jason Hope
Jason Hope is an entrepreneur and futurist from Arizona who uses his resources to support research and local charities. His research focus lies in fighting aging and advancing the Internet of Things. Learn more about his work at http://www.jasonhope.com.