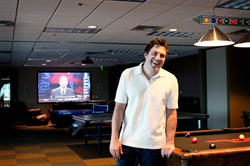 On one hand we have a tech giant who is getting ready to venture into the Internet of Things for its first real try
Scottsdale, AZ (PRWEB) August 05, 2015
Microsoft is gearing up to launch its first public preview of its Internet of Things services, and the Wall Street Journal reports that it is partnering with Jasper Technologies Inc. to help. Jason Hope, futurist and entrepreneur from Arizona, comments on a recent article that looks at the benefits both companies stand to gain from this partnership.
According to the July 30 article from the Wall Street Journal entitled "Microsoft Partners with Jasper to Expand Internet of Things," the partnership is geared at bringing in engineers from both companies to build business processes that focus on the Internet of Things. Jasper, according to author Steven Norton, already has skills with the managing Internet of Things devices and clearly understands the behind-the-scenes elements of the Internet of Things. This will be an asset to Microsoft as it prepares to launch its Azure suite.
In the article, Norton indicated Microsoft's Azure IoT suite is slated to ship as a public preview later in 2015. The platform helps customers analyze and manage the data that they receive through their connected devices, including sensors and machines connected to the Internet of Things.
Jasper is rumored to have its initial public offering coming out sometime this year, and has worked with Heineken to monitor beer quality while also providing law enforcement agencies with technology to monitor real-time gun crime activity. Jasper also has connections with the automakers who are working on connecting the internal components of vehicles to the Internet of Things.
"This partnership is interesting," says Jason Hope. "On one hand we have a tech giant who is getting ready to venture into the Internet of Things for its first real try. On the other hand, we have a startup who has had quite a bit of success in the Internet of Things. Together, they should be able to create interesting products and services that fill a need in the industry."
The full extent of the partnership has yet to be released.
About Jason Hope
Jason Hope offers insights into the Internet of Things as he watches it develop from his home in Scottsdale, AZ. A successful entrepreneur and futurist, Hope also helps support research into developments that will improve the future health of humanity. Learn more about his work at http://www.jasonhope.com.