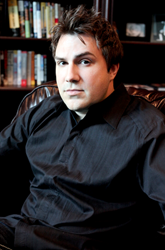 Using data to analyze soil conditions, choose fertilizers and pesticides and over all increase yields is going to be an essential part of the future of humanity
Scottdale, AZ (PRWEB) August 11, 2015
In a recent article, Steve Lohr of the New York Times discusses ways in which the Internet of Things is changing the face of agriculture. Citing information presented at a workshop hosted by the National Science Foundation and the National Consortium for Data Science, the article looks at ways that data could drive the future of farming. Jason Hope, futurist from Arizona, believes that the Internet of Things could improve farming, yields and efficiency greatly in the future.
In the August 3 article "The Internet of Things and the Future of Farming," Lohr discussed information presented by Lance Donny, founder of OnFarm Systems. In his talk, Donny discussed the history of farming, showing how that history created the right framework for a data-driven future. His optimism was shared by Jason Hope when discussing the information presented later.
According to Donny, effectively using technology and the Internet of Things will make the use of land, water and fertilizer more efficient. Consumers will be better able to know where their food came from and what chemicals were used in it, helping meet the demand of customers to know what they are eating.
The article also indicated that the world is facing a food gap as people are entering the middle class and changing their eating habits globally. In order to meet demand, worldwide farm productivity is going to need to increase to 2.5 tons per acre, a number that American farmers have reached but others have not due to poor technology, the article stated.
"Here we see yet another way in which the Internet of Things is improving the day-to-day life of people not just in America, but around the world," said Jason Hope. "Agriculture is clearly an area where we must improve if we are going to succeed. Using data to analyze soil conditions, choose fertilizers and pesticides and over all increase yields is going to be an essential part of the future of humanity."
About Jason Hope
Arizona-based Jason Hope watches the growth of the Internet of Things while working as an entrepreneur. He is a well-known philanthropist, using much of his income to support the work of research around the globe. Learn more about his work at http://www.jasonhope.com.