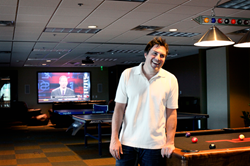 OnKol is interesting in that it gives those caring for elderly adults the information they need, even when they can't be with their parent or other loved one
(PRWEB) August 23, 2015
According to a report in Upstart Business Journal, OnKol is a new Internet of Things connected technology that is providing a way to connect families to the elderly loved ones they are caring for. Jason Hope, futurist from Arizona, points to the tabletop gadget as one of the innovations that make the Internet of Things such a powerful change for modern individuals.
In the August 17 piece entitled "Startup uses Internet of things to connect families, elderly," Ken Reibel of Upstart Business Journal discusses the details of the device, which comes from a Milwaukee-based tech startup called OnKol, which is pronounced "on call." The device tracks the vitals of an elderly or ill individual, will send alerts for medications and will send important information to family members who cannot always be with their loved ones. This allows caretakers to stay connected via either an online portal or text, letting them take action when it is warranted.
"OnKol is interesting in that it gives those caring for elderly adults the information they need, even when they can't be with their parent or other loved one," indicated Jason Hope. "This provides peace of mind for those who have to leave their loved one to go to work or take care of household needs, and also provides a way for elderly adults to remain independent and in their own homes longer, even when they need a little extra care and attention. This quality of life is what the Internet of Things is all about in relation to the healthcare fields."
OnKol is taking on a new market with this device, targeting older individuals who are not as tech savvy as their younger counterparts, the main target for many connected devices. To make this target market reachable, OnKol focuses on providing an easy-to-use system that is aesthetically pleasing, so individuals are willing to put them in their homes and able to use them accurately.
OnKol is scheduled to be available at the end of 2015, with a sales price of around $300 and a $20 monthly subscription fee.
About Jason Hope
Jason Hope is a philanthropist and entrepreneur who resides in Arizona. He uses his time and resources to conduct research into technology and healthcare innovations that improve life for the modern individual. To learn more about his work, research and tech predictions, visit http://www.jasonhope.com.