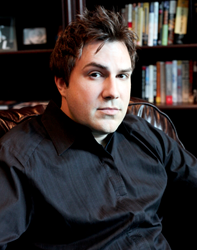 We can't say yet, but it does bring technology and media to a place where it has never been. That, in and of itself, is an interesting innovation
(PRWEB) August 26, 2015
China's Cheil PengTai digital agency is bringing the Internet of Things to subway and commuter buses in Beijing, according to Advertising Age. Using the hand grips and turning them into health monitoring systems, the digital agency is giving commuters a chance ot check their BMI, heart rate and balance during their daily commute. Jason Hope, entrepreneur from Arizona, believes this is an ingenious way to integrate the Internet of Things into day-to-day life.
In the August 18 article entitled "Bringing the Internet of Things to Buses in Beijing," Angela Doland of Advertising Age outlined the technology that has been introduced to China's daily commute. "In public transport," the article said, "you often see commuters hanging from the straps with one hand and checking smartphones with the other." She then indicated that this was an opportunity that Cheil PengTai decided to capitalize on as they marketed healthier lifestyles for their Meiyitian yogurt drink brand.
Using this technology, gadgets in the straps link to commuter's smartphones through NFC interaction. The company placed 6,000 health monitors into 200 buses in Beijing in the spring, and the topic was shared online over 3 million times. Thus far, around 350,000 people have used the device.
"Will this technology help sell more yogurt drinks?" ask Jason Hope. "We can't say yet, but it does bring technology and media to a place where it has never been. That, in and of itself, is an interesting innovation."
This could prove to be an important marketing tactic, because China is seeing the launch of new products regularly. For brands to market successfully, they must find a way to stand out and remain competitive. It's possible that the bus system may provide that opportunity in the near future, with the help of the Internet of Things.
About Jason Hope
Jason Hope is a futurist and entrepreneur with a passion for the use of technology to improve the future of mankind. From his home in Arizona, he uses his time and resources to support local research and charity efforts. To learn more about his work, research and tech predictions, visit http://www.jasonhope.com.