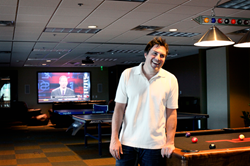 We have printers that can print directly from mobile devices that are now being marketed as 'IoT-enabled' printers, when in fact they are doing what they have been doing for years
Scottsdale, AZ (PRWEB) September 01, 2015
The Internet of Things is at the peak of its hype cycle, according to a recent article in Fortune, and many wonder if it will truly live up to the hype. While corporations around the globe are sensing money in the air, Fortune's Adam Lashinsky states that the "jury is still out." Jason Hope, futurist from Arizona, believes that the hype may be heavy, but the potential is still quite good.
In the August 13 article entitled "Can the 'Internet of Things' live up to its hype?" Adam Lashinsky discusses his opinion that the Internet of Things may simply be a hyped up trend with little staying power. While he believes the Internet of Things is here to stay, he does not believe it is going to change the tech world the way others do. He also believes that the "IoT" is a not much more than a marketing term that is connected to items that are already doing a function without the IoT label.
"In a way," says Jason Hope, "Lashinky is right. We have printers that can print directly from mobile devices that are now being marketed as 'IoT-enabled' printers, when in fact they are doing what they have been doing for years. Yet, the Internet of Things is bringing some new technology into the field, and that technology can change the face of the tech world if it is used well and introduced properly."
Lashinky's piece indicated that the Internet of Things can have some benefit, but only for those who understand what it is, what it can do and what it can't do. For those companies who can embrace the IoT in this way, then the future is bright, because this is a popular term and a type of product that consumers are looking for. When considered as a marketing tactic, the Internet of Things can be quite lucrative in the coming years, although the hype is going to start to decrease after hits peak.
About Jason Hope
From his home in Arizona, Jason Hope serves as an entrepreneur and futurist. With a strong belief in the power of technology to improve the human condition, Hope enjoys supporting research and local charity efforts with his resources. Learn more about what he is currently supporting at http://www.jasonhope.com.