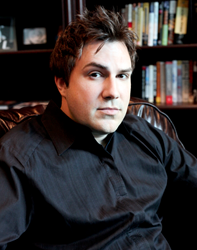 We can greatly improve the efficiency and accuracy of the modern healthcare world
Scottsdale, AZ (PRWEB) September 04, 2015
With the Internet of Things in full swing, and more and more connected devices gathering data from individuals, it's no wonder that healthcare is the new frontiers of this connected world, according to an article from Forbes. Healthcare providers, according to Forbes, must now figure out how to harness the information available to individuals, limit the amount of self-diagnosis and use the information to create a convenient, formalized healthcare system. Jason Hope, futurist from Arizona, agrees that this could be beneficial, but warns that the developers must create a system that is fully secure.
According to Adrian Bridgwater's August 24 article entitled "The (Internet of Things) Doctor Will See You Now -- And Anytime," doctors have been pressing patients to become active players in their healthcare, with an increased number of online records available to individuals and an increase in connected heath tracking devices. As the Internet of Things continues to grow, it's going to become crucial that the available information is delivered to individual patients in a relevant, usable way, as well as being stored in a way that is accessible to doctors to improve health outcomes.
"Here's the key to making the Internet of Things work for healthcare," says Jason Hope. "We must find a way to get all the data those fitness trackers and other connected healthcare devices are gathering and put it in the hands of not only the consumer, but also the consumer's medical team, all while maintaining privacy and security."
Unfortunately, this is not always an easy task. A system that allows patients to fill out health questionnaires ahead of appointments on their own computers, uploading data from connected devices, and then transporting it to the doctor to view before an appointment, could be a solution that works.
"If we can develop such a system and deploy it universally," says Hope, "We can greatly improve the efficiency and accuracy of the modern healthcare world."
About Jason Hope
Jason Hope is a tech expert who resides in Arizona. He uses his resources developed as an entrepreneur to support research into the Internet of Things and medical healthcare issues. Learn more about his work at http://www.jasonhope.com.