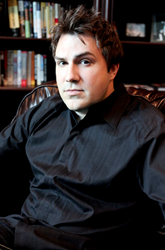 The Intel marketing team is going to have to be quite skilled to make this switch
Scottsdale, AZ (PRWEB) September 07, 2015
Intel has jumped into the Internet of Things world, according to a recent publication from Fortune Magazine, with a focus on marketing the consumer side of the Internet of Things heavily. Through a reality TV show produced by Mark Burnett, Intel's connected technology is going to be front and center as people will use Intel chips to make connected devices. Jason Hope, futurist from Arizona, believes this is a good time for the technology giant to jump into the foray, as the Internet of Things is at the peak of the hype cycle.
According to the August 19 article entitled "Like everyone else, Intel is betting on the Internet of Things to boost its marketing mojo," written by Stacey Higginbotham, Intel recently discussed a variety of popular connected items at its Intel Developer Forum, held earlier in August in San Francisco. The company has focused much of its efforts on a new chip designed specifically for the consumer side of the Internet of Things.
Up until the last month, Intel has focused its Internet of Things strategy on targeting businesses, helping them gather data from sensors, using data centers with Intel technology to analyze that data. Now, Intel is trying to change its marketing tactics to show a full commitment to the Internet of Things, with a goal of putting its chips in end user devices.
"What we can't tell yet," says Jason Hope, "is whether or not Intel can actually get developers to move from the chips they are already using to Intel's alternatives. The Intel marketing team is going to have to be quite skilled to make this switch."
Only time will tell if the new marketing tactics will work. Today, Intel still spends much of its time selling directly to businesses, and that structure may not change any time in the near future.
About Jason Hope
From his home in Arizona, Jason Hope watches the development of the Internet of Things with great interest. He is a tech guru and futurist who believes that technology, when developed properly, can greatly improve the quality of life for individuals throughout the world. Learn more about his research and insights at http://www.jasonhope.com.