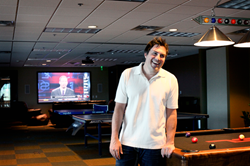 For instance, the heating system can be connected to the front door to register when you arrive home, and the lights can also be connected to the system, so your home is warm and well lit when you arrive home from work
Scottsdale, AZ (PRWEB) September 10, 2015
Samsung is banking on its new Internet of Things hub to help the evolution and development of the Internet of Things, according to a recent article on the Guardian. Entrepreneur and futurist Jason Hope thinks that the development of the hub, which unites sensors from different manufacturers into one distinct hub, this development could solve one of the biggest problems with the Internet of Things - the lack of compatibility and communication across devices.
In the September 3 article entitled "Samsung launches SmartThings Internet of Things hub," Samuel Gibbs of the Guardian talks about the Samsung Hub. The goal of the hub, is to "securely unite sensors and accessories from a range of manufacturers using the SmartThings open system." SmartThings is an Internet of Things company Samsung acquired in April of 2014.
"This is the technology that is necessary to create the smart home," says Jason Hope. "With a hub like this, everything can be connected not only to the Internet, but also to each other. For instance, the heating system can be connected to the front door to register when you arrive home, and the lights can also be connected to the system, so your home is warm and well lit when you arrive home from work."
Rather than requiring users to buy only Samsung products to use the SmartThings Hub, Samsung has created the device so it will also be compatible with Philips, Honeywell, Yale, LIFX, Bose, Aeon and several other manufacturers. The device features heavy encryption to ensure security, and Samsung will use third-party auditing and regular security checks to ensure the system remains secure. Any data stored by the device will be stored in the cloud and only accessible by the device owner.
Once installed and set up, the system will be controlled by the SmartThings app, which works on Android, iOS and Windows Phone. "Samsung is clearly working to make this a versatile app that will meet this need in the market," says Hope. "They are overcoming hurdles to ensure that most people, no matter what device or connected items they have, can use it."
Samsung's hub will be available starting September 10.
About Jason Hope
A futurist and entrepreneur, Jason Hope resides in Arizona. He uses his resources to support a variety of research projects in industries that focus on improving the future of people in his local community and around the globe. Learn more about his research and charity efforts at http://www.jasonhope.com.