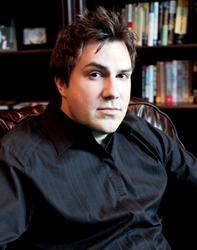 We don't need to collect more data, necessarily, but we need tools to use the data we already have
Scottsdale, AZ (PRWEB) September 22, 2015
At Dreamforce, a customer conference in San Francisco, Salesforce announced its new Salesforce Internet of Things Cloud, according to an article in Tech Crunch. Entrepreneur and futurist Jason Hope believes this is an example of ways in which companies will have to diversify to make the Internet of Things work for them.
In the September 15 article entitled "Salesforce Announces New Internet of Things Could, As Dreamforce Opens," @Ron_Miller of Tech Crunch discusses the details of the newly announced cloud service. Salesforce already operates Thunder, Wave, Salesforce 1 and Lightning and several other platforms. This new announcement shows that the company is placing its bet on the Internet of Things in a heavy way, drawing a connection between customers and the data devices and other connected items are gathering.
The goal of the new cloud is to help customer manage the massive amounts of data available from their connected devices. The data is coming from devices as well as apps, social media and more. The end goal is to help companies that are Salesforce's customers get a better picture of who their customers are and what they are doing.
"This type of analytics is exactly what companies need from the Internet of Things," says Jason Hope. "We don't need to collect more data, necessarily, but we need tools to use the data we already have."
Unfortunately, processing all of the data available about customers is incredibly complex. The new cloud will take in and filter information and then send it back to the Salesforce platform. There, Salesforce customers will have a clear picture of who their customers are. The platform will make it easier for customers to sort the data using rules and logic they write themselves to sort through it and find the data that is relevant to their needs. Salesforce will also allow the customers to export data into other tools. The new cloud will go into pilot in 2016, with a full release sometime after that.
About Jason Hope
From his home in Arizona, Jason Hope watches technology with great interest, looking for ways to improve the future of humanity through better connectivity and technological advancements. He is a successful entrepreneur and well-known philanthropist. Learn more about his work at http://www.jasonhope.com.