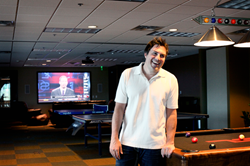 Communities could save money, because they would no longer need to empty meters, and improve revenue, because they would have better ways to enforce parking meter payment
Scottsdale, AZ (PRWEB) September 28, 2015
Standardization is coming to the Internet of Things, at least NarrowBand IoT (NB-IoT), according to a report in PC World. The body in charge of LTE, 3GPP, has agreed to standardize NB-IoT at a workshop in Phoenix in mid-September. Jason Hope hopes that this is the first in several moves towards standardization as the Internet of Things grows and develops.
In the September 22 report entitled "LTE standard for Internet of Things machines gets the green light," Stephen Lawson of PC World (@sdlawsonmedia - @pcworld) discusses the development. According to his article, NarrowBand IoT standardized technology will allow certain low-power connected devices to communicate for several years on one battery.
NB-IoT works on low speed but has a long reach. This means the technology can be used to drive sensors in smart cities and connected warehouses, and would allow the sensors or small machines to run for years without service visits. By 2020, nearly 1.5 million devices are going to be connected to these low-power, wide-area networks, and NB-IoT will provide better indoor coverage and lower costs to these devices.
"What's interesting is the fact that NB-IoT could reuse some of the existing LTE infrastructure," says Jason Hope. "This will help lower the cost as the new technology deploys."
This is not the only company working to make low-power LTE products and technology. Ericsson, Nokia and Intel have announced a cooperation to create Narrow-Band LTE technology, with commercial launches expected in the next year. At the workshop in Phoenix, 3GPP explored different technologies that would allow this low power network, with an agreement to standardize but no final decision on the exact specifications of the technology.
"It really is an interesting technology," continued Hope. "Imagine a connected parking meter that would run for many years without an inspection. Communities could save money, because they would no longer need to empty meters, and improve revenue, because they would have better ways to enforce parking meter payment. The NB-IoT would make these an affordable addition to the smart city infrastructure."
About Jason Hope
Jason Hope watches the development of the Internet of Things with great interest from his home in Scottsdale, Arizona. He also uses his resources as an entrepreneur to support research into health and wellness technology. Learn more about his work at http://www.jasonhope.com.