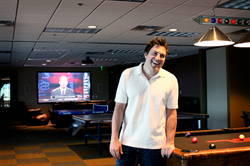 The Internet of Things is making the ride more convenient for the rider, while also helping those in charge of the system better make decisions for the future
Scottsdale, AZ (PRWEB) June 06, 2015
The Internet of Things is transforming the way London's public transportation system operates, according a a recent report in Forbes. Using data gathered through Internet of Things devices, London's Transport for London network is able to better plan services and provide information about services to their customers. Jason Hope, entrepreneur from Arizona who carefully follows the development of the Internet of Things, believes that these changes could be used in other transportation areas to streamline the process of getting people from one place to the next.
In the May 27 article on Forbes entitled "How Big Data and the Internet of Things Improve Public Transport in London," Forbes writer Bernard Marr addresses the sheer size of the vast public transportation network in London. With a current population of 8.6 million people, expected to grow to 10 million in the near future, the city has a massive need for reliable, usable transportation. This requires the Internet of Things
The Internet of Things debuted in the London transportation network with Oyster prepaid travel cards, which passengers could use to pay for their transport with a simple swipe of a card. The Oyster cards then collect data about which routes are being taken, to help the transportation planners organize adequate transportation for the journeys their riders nee to take.
"Here you have the perfect mix," said Jason Hope in regards to the article. "The Internet of Things is making the ride more convenient for the rider, while also helping those in charge of the system better make decisions for the future."
Beyond the Oyster cards, the Internet of Things has been added through sensors on traffic lights, on vehicles and in stations to gather more data. This data is being used to manage and understand load profiles, improve the customer service experience and better manage the vehicles in the fleet. The Internet of Things also allows Transport for London to route customers around disruptions and delays. Information is also posted to Twitter accounts to help customers keep tabs on what is going on.
Through the power of the Internet of Things, the transportation process in London is simply better. Customers get where they need to be easily, and managers are able to stay on top of what they need to do to ensure that the system runs effortlessly, even with a larger population in the area year after year.
About Jason Hope
Jason Hope resides in Arizona, where he uses his resources as an entrepreneur to advocate for advancements that make the future of humanity safer, healthier and more comfortable. He believes in the power of the Internet of Things to improve the future for the human race by making technology a more active part of day-to-day life. Learn more about his work at http://www.jasonhope.com.