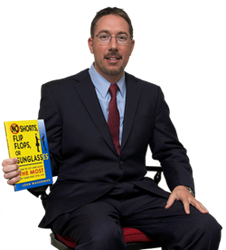 "That lesson has helped me advance in my field for two decades with a company that I love and lifestyle I cherish."
Philadelphia, PA (PRWEB) May 12, 2015
New college graduates often make several mistakes when searching for their first job, says longtime recruiter and sales trainer John Wasserman. He is the author of "No Shorts, Flip Flops, or Sunglasses – How to Get and Make the Most out of Your First Real Job" (Platform press, 2014). Wasserman has spent more than two decades recruiting and training college students for Vector Marketing, the sales arm of Cutco Cutlery. A Philadelphia-based division manager, Wasserman has interviewed thousands of students for their first "real" employment experience.
In 2015, nearly 2 million students will earn a bachelor's degree, according to data from the National Association of Colleges and Employers. As many of these students seek full-time employment, Wasserman can discuss:

How an incomplete or unpolished resume can end a job search before it begins.
Why fixating on a dream job can keep you from getting the right experience for right now.
How to avoid interview turnoffs such an unprofessional appearance, inappropriate comments and gimmicks.
Why it's crucial to be polite to everyone at the interviewing company, from the secretary to the CEO.
Wasserman can also share expert tips for those seeking college graduate jobs, including:

How to research and prepare for an interview.
How to make your interviewer like you and want to hire you.
Wasserman is a Hall of Fame Cutco Sales Executive whose career sales have topped $74 million. In his two decades with Vector Marketing, he has run divisions in divisions in Connecticut, New York, Pennsylvania, and New Jersey. His passion is helping Millennials not only learn the meaning of success, but also how to sustain it. "When I was in college I took a job as a dishwasher to make ends meet. I worked my tail off and was quickly promoted to cook. I've learned to give your all no matter what the task," Wasserman says. "That lesson has helped me advance in my field for two decades with a company that I love and lifestyle I cherish."
About Vector Marketing
Vector Marketing is the sales arm for Cutco Cutlery, a 65-year-old company with headquarters and manufacturing facilities in Olean, New York. Vector sells Cutco through a national team of college students, who are trained to do in-home and virtual demonstrations on a pre-set basis. Vector Marketing has over 200 locations nationwide and works with students of all majors with little-to-no professional