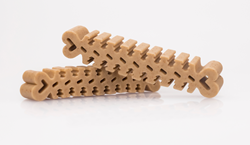 Menomonie, Wis. (PRWEB) January 28, 2015
February is Pet Dental Health Month, a time to remember that dogs and cats need good oral hygiene habits too. Pets experience the same plaque buildup that humans do, which can lead to tartar, gingivitis and bone loss. It's critical that the plaque be physically removed from the teeth. Brushing a dog's teeth can be a difficult task, so many pet parents turn to chews, which work with the natural chewing action to clean away the plaque on teeth.
KaNoodles® Premium Dental Chews for dogs, winner of a 2014 Pet Business Industry Recognition Award, are a unique solution to pet dental health. With deep grooves, the chews reach down to the base of the tooth to remove plaque. Because the chews are extruded like a noodle and then naturally air-dried, they remain flexible and will not cause gum damage as dogs chew. Plus they are made from wholesome grains, so—unlike other leading brands—they are completely digestible! Made from human-grade ingredients, the chews contain no preservatives, GMOs, artificial colors or added sugars.
Vijay Sasi, DVM, MS, a staff veterinarian at Vets Plus, Inc., explained how the chews work. He said, "The unique patented design enhances the mechanical abrasion as the dog chews, scraping away plaque. There's added zinc acetate which helps prevent future tartar buildup by reducing calcium ions in the saliva." The chews have anti-inflammatory properties to support healthy gums and antibacterial properties to help freshen breath.
In research trials, dogs have shown a preference for KaNoodles chews over other leading brands. Because they chew longer on KaNoodles, dogs are less likely to swallow the chew whole. But there's no cause for concern if a large piece is swallowed, said Dr. Sasi. "It is completely broken down within two hours in the stomach and fully digested."
A recent study commissioned by Vetstreet found that as many as 80% of dogs and cats exhibit some level of periodontal disease by three years of age. Left untreated, dental infection can spread throughout the body, affecting vital organs. KaNoodles chews provide a proactive approach to maintaining a healthy smile in dogs between veterinary visits. Dogs love the taste of the natural chicken flavor, making the chews a treat for your pet that helps them live a healthy life.
KaNoodles Premium Dental Chews are available in four sizes for small to extra-large dogs. The chews can be found at local retailers, in stores and online, including at http://www.probioticsmart.com. For more information on these natural chews, visit http://www.kanoodlesusa.com.
High-resolution images available upon request.
About KaNoodles® Premium Dental Chews
KaNoodles® Premium Dental Chews are brought to the USA by Vets Plus, Inc. The patented shape spent years in development by researchers, resulting in a flexible, digestible chew that cleans teeth better than other dental chews on the market by increasing the tooth surface interaction time. The natural chews contain added zinc acetate and omega-3 fatty acids to support oral health. Vets Plus, Inc. is an audited member and preferred supplier of the National Animal Supplement Council (NASC). The company is also a member of the American Pet Products Association (APPA).
###