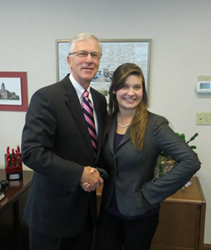 "Students aren't going to care about what you are trying to teach them unless they know you care about them. And I learned that from Cutco."
Denton, TX (PRWEB) May 26, 2015
It's not every day you can buy knives from a member of a world-renowned barbershop quartet. But Cutco Sales Professional Kimberly Newcomb loves both singing and selling. Newcomb sings tenor in Singcerity, one of eight groups chosen worldwide to compete at the Mixed World Barbershop Championship Competition in Dortmund, Germany, in 2014. At the world championship, Singcerity placed third overall, a high honor for a group that has only been together for two years.
Newcomb, a 22-year-old senior majoring in music education at the University of Northern Texas, has also sold more than $50,000 of Cutco kitchen cutlery, kitchen accessories, and sporting knives in her three years with the company. And she ran a Decatur branch office in between semesters for Vector Marketing, the sales arm of Cutco Cutlery. She says the flexibility of working for Vector Marketing has allowed her to pursue her musical dreams.
"What's been really helpful about Vector is I get to make my own schedule," says Newcomb. As a result, she's been able to attend rehearsals, performances and competitions in a way that would have been impossible with a 9-to-5 job. Also, the leadership and communication skills she's learned at Vector will help in her future career, Newcomb says. "I know how to really get to know a person," she said. "Students aren't going to care about what you are trying to teach them unless they know you care about them. And I learned that from Cutco."
About Vector Marketing
Vector Marketing is the sales arm for Cutco Cutlery, a 65-year-old company with headquarters and manufacturing facilities in Olean, New York. Vector sells Cutco through a national team of college students, who are trained to do in-home and virtual demonstrations on a pre-set basis. Vector Marketing has over 200 locations nationwide and works with students of all majors with little-to-no professional experience.