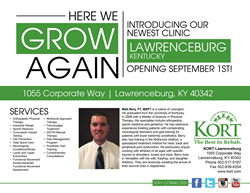 At KORT, we put our patients first, making their experience as trouble free as possible by providing accessible and immediate care in a cost effective manner
Lexington, Kentucky (PRWEB) August 19, 2015
On Tuesday, September 1 KORT, The Best in Rehab, will open its newest location at 1055 Corporate Way in Lawrenceburg, Kentucky. Clinic Director, Matt Berry, MSPT, PT, will oversee all operations as well as treat patients.
"Anderson County is a growing community that has successfully maintained a beautiful small town atmosphere. That is what drew me to this opportunity. My goal is to provide a convenient location to better serve the residents of this wonderful community. At KORT, we put our patients first, making their experience as trouble free as possible by providing accessible and immediate care in a cost effective manner. I pride myself on providing compassionate care to individuals of all ages and look forward to getting to know the wonderful residents of Anderson County," said Berry.
The Anderson County clinic will be open Monday and Wednesday 10:00 am – 7:00 pm, Tuesday, Thursday and Friday 8:00 am – 5:00 pm. The clinic will provide the following services:

Orthopaedic Physical Therapy & Sports Medicine
Industrial Rehab
Sports Medicine
Concussion impact testing
Fall Prevention
Total Spine Care
McKenzie Approach Therapy
Fibromyalgia Treatment
IASTM Manual therapy
Pain Management Program
Prosthetic Gait Training.
Neurological Conditions/Stroke
Lower and Upper Extremities
Functional Movement Screen/Selected Functional Movement Assessment
Complimentary Consultations
About the Clinic Director
A native of Lexington, Matt Berry graduated from the University of Kentucky in 2008 with a Master of Science in Physical Therapy. His specialties include orthopedics,sports medicine and geriatrics. He has extensive experience treating patients with complicating neurological disorders and gait training for patients with lower extremity prosthetics. Berry also has training in the McKenzie method, a specialized treatment method for neck, back and peripheral joint dysfunction. He particularly enjoys working with athletes of all ages with specific injuries to shoulders, knees and back. Berry lives in Versailles with his wife, KayKay, and daughter Addison. They are anxiously awaiting the arrival of their second child in September.
For more information visit http://www.kort.com or call 1-800-645 KORT (5678), or 502-517-0187 to schedule an appointment or a complimentary consultation at the Lawrenceburg clinic.
Most health insurance plans now allow patients to seek physical therapy treatment directly without a physician referral.
For over 27 years, Kentucky Orthopedic Rehab Team (KORT) has been the specialist in outpatient physical and occupational therapy in Kentucky and Southern Indiana. Local ownership and independent operations allow our therapists to work one-on-one with patients helping them to regain strength, increase flexibility, improve mobility, and reduce pain without medication or surgery. Selected as a "Best Places to Work in Kentucky" for 11 consecutive years, and with over 40 locations, KORT has the most board certified Orthopedic Specialists and Vestibular Rehabilitation specialists of any other provider in the Commonwealth. KORT's certified athletic trainers provide services to more than 30 high schools and colleges making us the largest sports medicine provider in the region. KORT has improved more lives by providing compassionate care to more people, in more communities, and in more locations than any other outpatient physical or occupational therapy provider in the state of Kentucky. Through our years of commitment to the physicians and patients of Kentuckiana, KORT is time tested and most trusted.