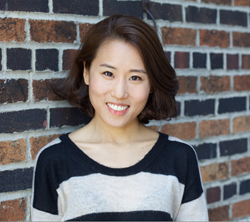 " My perspective is at least 50% of entrepreneurs should be women, but today women start businesses at roughly half the rate of men. I am excited to be part of Lady Pitch Night USA to help us get a step closer to making my dream a reality
San Francisco, CA (PRWEB) September 29, 2015
Girls in Tech, an organization focused on the empowerment, entrepreneurship, engagement, and education of women in technology, along with Genentech, TEKsystems, Salesforce Ventures, State Farm, NASDAQ, H&R Block-Small Business, Automattic, Institutional Venture Partners, Franklin Templeton Investments, LoopUp, YouNoodle, GoDaddy, Fenwick & West LLP., is hosting a half-day pitch competition for early-stage technology startups for female entrepreneurs at Nasdaq Entrepreneurial Center in San Francisco. The event will take place Tuesday, November 10th. The panel of judges consists of the following experienced tech professionals and investors:

Lisa Hook - Chief Executive Officer of Neustar
Jason McCabe Calacanis - Host of "This Week In Startups", founder and CEO of Inside.com
Brianna Wu - Head of Development at Giant Spacekat
Roseanne Wincek - Vice President, Institutional Venture Partners (IVP)
Yasi Baiani - Head of Product, Fitbit
Alison Wagonfeld - Operating Partner of Emergence Capital
Duncan Logan - Founder and CEO of RocketSpace
Monique Morrow - CTO New Frontiers Development and Engineering at Cisco
Gil Penchina - serial entrepreneur and prolific angel investor
Denise Terry - CEO of Embrace Health
Jonathan Abrams – Founder & CEO of Nuzzel
Michael Hughes - Co-CEO and Co-Founder of LoopUp
Andy McLoughlin - Venture Partner with SoftTech VC
The winner will receive a $25,000 cash prize along with additional resources such as office space for 6 months provided by RocketSpace, and laptops for the winning team, to help move their startup forward.
Hosting this phenomenal pitch night is none other than Emmy Award Winning Anchor & Entrepreneur, Kym McNicholas. Kym is the current host of the Tech2 Show (Channel 5), founder of Kymerview, and Executive Director of Extreme Tech Challenge.
Also on the Lady Pitch Night USA ticket are four amazing keynote speakers: Yvonne Wassenaar, CIO of New Relic, Jennifer Tejada, former President and CEO of Keynote, Stephanie Tilenius,CEO/Founder of VIDA Health, Arum Kang, Co/Founder of Coffee Meets Bagel.