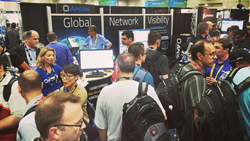 "It is an absolute priority for Network and Security teams today to have continuous visibility and a consolidated view of network and user activity" said John Brosnan, CEO of NetFort.
(PRWEB) June 12, 2015
NetFort LANGuardian debuts on the APCON IntellaStore II at Cisco Live U.S.. San Diego, California. June 7 – 11, 2015, booth#1524.
IntellaStore II is an all-in-one network visibility solution for midsize data centers and remote locations. It combines an advanced network monitoring switch with a number of built in applications including NetFort LANGuardian to provide a cost effective appliance with built in network traffic analysis, security and performance monitoring.
IntellaStore II and LANGuardian meet the real-world challenges that face network and security teams today by continuously monitoring activity, detecting anomalies and retaining rich granular metadata ideal for troubleshooting, reporting and forensics. Replacing multiple systems, logs and files, APCON and NetFort have delivered an easy-to-use view of network traffic, user activity and resource usage
About NetFort
NetFort provides a range of software products to monitor activity on virtual and physical networks. Headquartered in Galway, Ireland, NetFort was established in 2002 and has built up a global customer base in the enterprise, education, and government sectors.
NetFort LANGuardian combines network activity and IT security monitoring into one centralized tool that enables organizations to proactively monitor and validate all network and user activity.