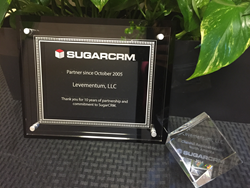 We are delighted that the strategic and transformational work being undertaken by Levementum and the solutions that we've designed to support CRM and Digital demands have been recognized by the leadership of SugarCRM.
Chandler, Arizona (PRWEB) May 08, 2015
Levementum, a leading provider of CRM and Digital consulting services, today announced that it has won two 2015 SugarCon Partner Awards. Levementum won the 2015 SugarCRM North American Regional Leader Award and the 10 Year Partner Anniversary Award.
The 2015 SugarCRM Partner Awards, presented by SugarCRM, recognize its alliance partners that have made noteworthy achievements in operational excellence throughout the 2014 calendar year.
Levementum has been actively engaged with SugarCRM for ten years. As a SugarCRM Elite partner (the highest ranking possible), Levementum has successfully deployed over 2000 SugarCRM projects. Levementum was selected as the North American leader in extraordinary leadership and growth in revenue, performance and commitment to customer relationships with the most innovative and affordable CRM solution in the market.
Geoffrey Mobisson, Chairman and Co-founder of Levementum said "We are delighted that the strategic and transformational work being undertaken by Levementum and the solutions that we've designed to support CRM and Digital demands have been recognized by the leadership of SugarCRM."
About Levementum
Levementum is a one stop CRM shop, providing turn-key services from implementation to managed support solutions. As a SugarCRM Elite partner (the highest ranking possible), Levementum has successfully deployed over 2000 SugarCRM projects since 2006. Our proven implementation methodology coupled with on-going support services deliver exceptional service, quality and innovation to our customers. Our strong network of ISV relationships helps us deliver enhanced value to our customer's SugarCRM solutions. More information about the firm, its partners and services can be found on their site Levementum or follow @Levementum
About SugarCRM
SugarCRM enables businesses to create extraordinary customer relationships with the most innovative and affordable customer relationship management (CRM) solution on the market. By placing the individual at the center of its solution, SugarCRM is putting the "i" in CRM and empowering people at all levels of an organization to better understand and engage with customers. Based in Silicon Valley, SugarCRM is backed by Goldman Sachs, Draper Fisher Jurvetson, NEA and Walden International. More than 1.5M individuals in over 120 countries rely on SugarCRM. To learn more visit SugarCRM or follow @SugarCRM. Find the full 2015 Global Partner Awards