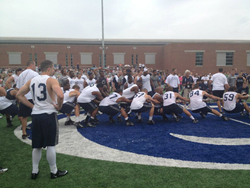 Nittany Lions have raised more than $1-million
State College, Penn, (PRWEB) June 30, 2015
The event pits the Penn State offense against the defense in a series of competitions to benefit the Kidney Cancer Association. The players will compete on an obstacle course, sand bag stack, sled pull and push, shuttle run and tug of war. All proceeds from the event will benefit kidney cancer patients and their families.
A kids clinic, which costs $15, will run 11 a.m. to 1 p.m. Players will be available 1 to 2 p.m. for autographs and photos.
Kidney Cancer Association CEO Bill Bro, who is a survivor of the disease, says, "We're grateful to Uplifting Athletes and Penn State Football for their ongoing commitment to the eradication of death and suffering from kidney cancer. The Nittany Lions have raised more than $1-million for research, education, and advocacy since the inaugural event in 2002."
The Kidney Cancer Association is a charitable organization made up of patients, family members, physicians, researchers, and other health professionals globally. It is the world's first international charity dedicated specifically to the eradication of death and suffering from renal cancers. It is also by far the largest organization of its kind, with members in more than 100 countries.
Donations may be made online by clicking here.