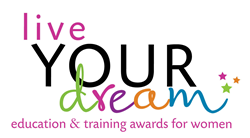 "Access to quality education is the key to overall gender equality and women's empowerment," said Soroptimist's Executive Director & CEO Elizabeth M. Lucas.
Philadelphia, PA (PRWEB) September 22, 2015
The American philosopher and academician Allan Bloom once said said, "Education is the movement from darkness to light."
Soroptimist, a global women's organization, has worked for more than 40 years to help women on their journey to "light." Through its award-winning Live Your Dream: Education and Training Grants for Women program, the organization assists women who provide the primary source of financial support for their families by giving them the resources they need to improve their education, skills and employment prospects.
Each year, Soroptimist awards about $1.7 million in education grants to more than 1,200 women, many of whom face enormous obstacles including poverty, domestic violence, substance abuse and death of a spouse. The program is unique in that Live Your Dream Award recipients may use the cash award to offset any costs associated with their efforts to attain higher education, such as books, childcare, tuition and transportation.
"Access to quality education is the key to overall gender equality and women's empowerment," said Soroptimist's Executive Director & CEO Elizabeth M. Lucas. "That's why providing women with the resources and opportunities they need to reach their full potential is so crucial to changing our world."
Soroptimist recently awarded $10,000 cash awards to each of its three 2015 Live Your Dream Award finalists. All three finalists—from the U.S., Japan and Mexico—are survivors of domestic or sexual violence and asked that their full identities not be disclosed.
"This year's Live Your Dream finalists, and all the women who receive this award, are a true inspiration to us all. With just the smallest bit of help, they triumph over tremendous challenges," said Soroptimist's President Susan "Sam" Buchenau of El Cajon, Calif. "But it doesn't end there. These remarkable women go on to thrive. They pay it forward, helping others and making their communities and the world a better place."
One of the recipients perfectly exemplifies this outcome. The single mom who is currently studying to be a nurse, wants to combine her knowledge of the medical field with her personal understanding of domestic violence, and plans to start her own center to help survivors of violence. She said, "Many people have helped me and gave me a will to live. It is now my turn to realize my dream and help others."
Since the Live Your Dream Awards program began in 1972, Soroptimist has disbursed about $30 million in education grants, helping tens of thousands of women achieve their dreams of a better life for themselves and their families. The Fels Institute of Government, a research and consulting organization based at the University of Pennsylvania, released a 2013 study evaluating the program. Giving the Live Your Dream Awards high remarks, the report concluded the program is highly effective in helping women gain the tools they need to make measurable improvements in their lives by increasing their self-esteem and employment prospects. Read the Fels study at: http://www.soroptimist.org/pdf/FelsCaseStatement.pdf.
The Live Your Dream Award program has also received the Associations Advance America Summit Award—ASAE & The Center for Association Leadership's highest level of recognition. For more information about the Live Your Dream Awards, visit http://www.soroptimist.org/awards/awards.html.
Soroptimist is now accepting Live Your Dream Award applications for 2015-2016 and encourages eligible candidates to apply: http://www.soroptimist.org/awards/eligibility.html.
Headquartered in Philadelphia, Pa., Soroptimist (Soroptimist.org) improves the lives of women and girls through the work of volunteers in 1,300 clubs across 20 countries and territories. In addition to its Live Your Dream Awards, Soroptimist recently launched a new program, Dream It, Be It: Career Support for Girls, which helps teen girls plan for and realize their potential. A 501(c)(3) organization that relies on charitable donations to support its programs, Soroptimist also powers LiveYourDream.org—an online community with more than 60,000 supporters who support women and girls through volunteer action.