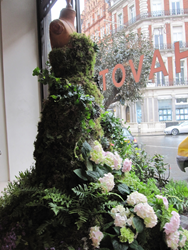 The window display was a great success, what's more all can eat it, made from eatable flowers, we are happy to provide a unique experience, where all can enjoy a fashionable floral display
London, GB (PRWEB UK) 28 February 2015
Today, Todich Floral Design announced the unveiling of their annual floral window display. Flower and Todich Floral Design enthusiasts will be delighted to know, one of London's top floral designers has created yet another spectacular flower window display, for Brasserie Chavot restaurant. As the fashion world descends on the fashion capital for London Fashion Week, the flower company celebrate accordingly. Taking centre stage, is Todich Floral Design's exquisite floral dress, made using plants, leaves, flowers and moss, it's a perfect fusion of flowers and fashion. If you're in London, step up your style for great food and prepare to bloom brightly, from the 26th of February. Join other floral enthusiasts, foodies, fashionistas and trendsetters at London's Chav restaurant.
One of company's most anticipated floral window displays, Todich Floral Design founder, Todd Z. Todic said: " A number of passers by have stopped to view and compliment our flower dress, with some wanting to wear it," says Managing director Todd Z.Todic. "The window display was a great success, what's more all can eat it, made from eatable flowers, we are happy to provide a unique experience, where all can enjoy a fashionable floral display."
How to Get Your Piece of Floral Fashion. Todich Floral Design boasts an opportunity to work with in-house floral designers, select and buy essential fashion flowers for all events. Experts in creating specular flowers for events, bars, hotels, offices, Weddings and beyond. Top floral stylist provides personalised floral arrangements, free delivery and installations for flower enthusiasts. It's free consultation, provides invaluable advice on designs and style for each event, with creations tailored to its customers floral needs. TodichFloralDesign.co.uk website allows you to browse beautiful floral arrangements, providing tips, news and floral inspiration.
About Todich Floral Design LTD. Todich Floral Design is a florist based in London, GB. Founded over 17 years ago, by Todd Z. Todic, the company is made up of a team of specialists; flower designers and talented florists with years of expertise. Expects in creating event and corporate floral displays, Todich Floral Design customers, can email in at events(at)todichfloraldesign.co.uk or contact 0207 737 1116 to discuss their floral requirements. All flowers are sourced from local suppliers, which comply with the company's strict quality standards. An eco friendly business, expert florist has distributed millions of flowers across the UK, creating floral designing for, Café Royal, Mandarin Oriental Hotel and the National Gallery amongst others. Todich Floral Design received, Best Business for Customer Service of the year in 2011 by the Lambeth Business Awards.