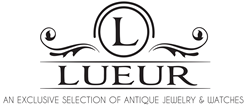 New York, New York (PRWEB) November 13, 2014
U.S. Antique Shows, producer of the industry's most anticipated antique events, announced today the launch of LUEUR, an exclusively chic antique jewelry and watch show, to be held at The Waterfront in Chelsea, Oct. 16-18, 2015.
LUEUR will feature the most elite purveyors of antique, estate and vintage jewelry and watches who will bring highly prized and rare pieces to New York City for three days only.
"With LUEUR, our goal is to bring together elite dealers and the buyers of the most coveted antique jewelry and watches in a luxurious buying setting at one of Manhattan's most unique and historic venues," says Dan Darby, Emerald Expositions vice president and U.S. Antique Shows general manager. "In addition, the show's dates were chosen specifically to avoid a conflict with city-wide events that occur later in the month including Halloween and the New York City Marathon as well as the November auctions held in Geneva."
For those with impeccable taste in jewelry and watches who feel the past is part of the future, LUEUR will feature the most popular styles and preeminent brands of jewelry from the Edwardian to Contemporary periods. In a global economy, where so much is often mass produced, this show will give attendees the opportunity to adorn themselves with jewelry pieces that evoke a feeling of luxury and beauty.
Perfectly timed for the upcoming holiday season, LUEUR will offer jewelry retailers exclusive buying opportunities with trade-only hours on the show's first day. The show's remaining three days will be open to the public. To further support the jewelry trade, LUEUR's dates are scheduled to immediately follow the International Watch & Jewelry Guild (IWJG) October show in New York City.
For more information about LUEUR, show times and admission, visit http://www.LUEURNY.com.
###
About U.S. Antique Shows
U.S. Antique Shows, producer of the industry's most anticipated events, serves the unique needs of the antique and antique jewelry marketplace with shows in Las Vegas, Los Angeles, Miami, Miami Beach and New York. The group's events offer a broad range of antiques as well as antique, vintage and estate jewelry and watches, and annually draws more than 50,000 consumers and 3,000 dealers from 28 countries worldwide.
U.S. Antique Shows is a division of Emerald Expositions, North America's largest owner and operator of business-to-business and consumer tradeshows. The company's jewelry portfolio is comprised of trade and consumer events including the U.S. Antique Shows division, Couture, JA New York (Summer and Winter), and JA Special Delivery.
For more information, visit http://www.U.S.AntiqueShows.com, follow us on Twitter: @USAntiqueShows and explore our Pinterest: Pinterest.com/USAntiqueShows. Check out our new blog at http://www.USAntiqueShows.com/TheQuill.aspx.