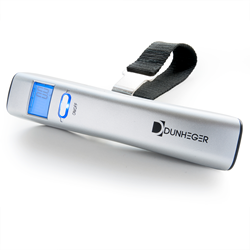 When creating our products we follow the golden rule: they need to be so good that we'd buy them ourselves.
(PRWEB) December 15, 2015
Dunheger is proud to announce that InStyle Magazine and Hollywood Foreign Press Association have selected their digital luggage scale to be included in the celebrity gift bag at the 2016 Golden Globe Awards. The 73rd annual Golden Globe Awards will be held on Sunday, January 10, 2016 at the the Beverly Hilton in Beverly Hills, CA. Being made part of the celebrity gift bag is something many product manufacturers strive to achieve. The honor being bestowed on Dunheger is something that they are truly grateful for.
"We at Dunheger are thrilled and honored to have our digital luggage scale be selected for inclusion in the 2016 Golden Globes celebrity gift bag," said Anna Graz, Dunheger co-founder. "When creating our products we follow the golden rule: they need to be so good that we'd buy them ourselves. To know that celebrities, who frequently travel the world, will be using our scales is absolutely amazing."
The Golden Globe Awards is one of the most popular award shows in the world and people in some 160 different countries watch it live. Additionally, some of the wealthiest and most famous people in the world attend the event each year. For a manufacturer to be featured there by being included in the gift bag represents a huge boost to their sales. Not only does it mean their products will be introduced in some of the highest circles in the world, it also means that everyday people will become interested in the products because they want to have their own gift bag.
For Dunheger, the inclusion is confirmation of the quality of their product. They have worked tirelessly to create something that not only meets the highest possible standards in terms of traveler needs, but also in terms of overall quality and safety, as well as accuracy. The digital luggage scale went through a period of extensive testing before it was released to the market.
The scale features include:

Very easy to use with one button operation
It's extremy accurate and precise with graduation 0.1lb
Takes weight reading fast and thank to backlit LCD display is easy to read
Automatic turn-off allows to save battery
It is super portable and lightweight yet sturdy and built to last
This scale is very handy and beautifully crafted.
The Dunheger luggage scale ensures that you never find yourself at luggage check-in with a weight problem again. It has been designed to make sure you won't have to face the dreaded excess baggage charges.
The portable luggage scale has been available on the market for quite some time now and it has received many positive reviews. "I love my Dunheger luggage scale," says one happy customer. "As a frequent traveler, it is important that I always know exactly how much my luggage weighs, because I cannot afford the excess baggage fees. Thanks to the scales, which I can simply carry in my own hand luggage, I never have to worry about these fees again."
Dunheger travel scale is available for order at http://www.dunheger.com
About Dunheger
If you love travel and adventures start your journey with us. We have a passion for the outdoors and traveling domestically as well as internationally. We create travel and outdoor gear designed to withstand the rigors of the road and provide quality with no bad surprises. Our products look good, they're durable and they're affordable.