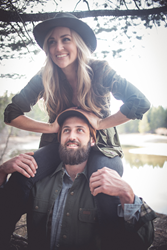 Sacramento, CA (PRWEB) May 01, 2015
The fashion society is saying farewell to the metrosexual and hello to the rugged, bearded lumbersexual, with BareBonesWorkWear (BBWW) becoming a leader in providing clothing and accessories for outfitting the movement.
TWEET THIS: Goodbye #metrosexual, hello #lumbersexual! @BareBonesWork leading the fashion trend. http://barebonesworkwear.com/blog-lumbersexual
What's a lumbersexual you ask? He's the rugged, unkempt manly man who is one with nature. He goes against the grain of clean-cut while embracing a more woodsy, all natural style. This 'man' has created a movement, the Lumbersexual Movement, a quiet, but growing market of young males who have been purchasing outdoorsy clothing items as pure fusion statements.
These men do not work in the mines, forestry, lumber industry, or any other outdoor profession, but wear flannel shirts and caps, with steel toed work boots, or Timberland Boots and Carhartt quilt-lined jackets with hoods, all of which BBWW provides.
"Perhaps men have come to appreciate durability, as they cut back on luxury purchases and pursue lasting value in their apparel. It makes sense to me," said Mason Moore, co-owner of BBWW. "We are all about supporting a movement that enjoys the clothing we have been offering for years, predominately for the workforce, but we provide accessories for not only work, but for life, the outdoors, and why not add lumbersexual fashion to the list?"
About BareBonesWorkWear.com: BareBonesWorkWear is the leading provider of useful apparel, footwear, and accessories for the construction, medical, restaurant, and law enforcement industries and outdoor lifestyles. Based in Sacramento, California, BareBonesWorkWear operates six retail locations in Northern California including: Truckee-Tahoe, Auburn, Sacramento, Rancho Cordova, Rocklin and West Sacramento. BareBones WorkWear plans to open more franchises in Northern California, then expand nationally in the future. For more information on franchising and an even larger selection of products online, visit http://www.BareBonesWorkWear.com.
###