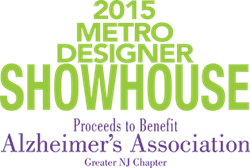 It's an incredible opportunity to inspire and excite design enthusiasts, while supporting the Alzheimer's Association, such a vital, worthy cause
Edgewater, NJ (PRWEB) March 17, 2015
At the 2015 Metro Designer Showhouse, top interior designers and architects from the New York Metropolitan area will each transform an entire loft residence at the historic, waterfront Pearl in Edgewater, New Jersey to benefit the Alzheimer's Association, Greater New Jersey Chapter.
From May 2 through June 28, the 2015 Metro Designer Showhouse will be open to the public Tuesdays through Sundays from 10am to 4pm. Admission is $25, which includes a full-color Showhouse journal. All ticket sale proceeds will be donated to the Alzheimer's Association, Greater NJ Chapter. An exclusive Gala Preview and Alzheimer's Association Fundraiser will be presented by media sponsor ASPIRE Metro magazine and National Resources on Thursday, April 30 from 6pm to 9pm.
Unlike most showhouses where a designer decorates a single room or space, each 2015 Metro Designer Showhouse designer will transform a whole loft into the ultimate urban residence, totaling seven living rooms, seven dining rooms, and 16 bedrooms on display. Participating designers include: Fulya Can, Sam Ciardi, Andrea Daly, Joe Ginsberg, Anna Maria Mannarino, Amy Manor, Alan Tanksley and Catherine Weinstock.
The Pearl was originally designed in 1953 as Unilever's research and development world headquarters by architectural firm Skidmore, Owings, & Merrill, whose iconic buildings include One World Trade Center in New York, the tallest in the Western Hemisphere, and Burj Khalifa in Dubai, the tallest in the world.
"When we discovered The Pearl -- capturing the Manhattan skyline, its iconic past and re-imagination for the future -- we knew we wanted to partner with its developer, National Resources, to launch a luxury showhouse like no other," says Amy Sneider, editor-in-chief of ASPIRE Metro magazine. "It's an incredible opportunity to inspire and excite design enthusiasts, while supporting the Alzheimer's Association, such a vital, worthy cause."
The 2015 Metro Designer Showhouse is the first in the NYC Metropolitan area to benefit the Alzheimer's Association. "We are so pleased to have been selected as the charitable beneficiary," says Ken Zaentz, President and CEO of the Alzheimer's Association, Greater New Jersey Chapter. "The Showhouse provides us with a wonderful opportunity to expand our research, care, and support programs for New Jersey individuals and families impacted by Alzheimer's disease, and to raise awareness about Alzheimer's disease as a growing public health crisis."
Tickets for the Gala Preview and Alzheimer's Association Fundraiser are limited. Celebrity Chef Danielle Saunders, who has cooked for famous foodies including Tom Hanks and Oprah Winfrey, and is the first African American female winner of both "Chopped" and "Chopped Champions" on the Food Network, will create and oversee Gala menus. Complimentary ferry services and NJ ground transportation will be available for guests traveling from New York City.
The Showhouse will also host the Metro Living Lecture Series, featuring experts on the topics of art, culture, decorating, design, entertaining and luxury lifestyle. For journal advertising and sponsorship opportunities, please contact Steven Mandel at steven@aspiremetro.com.
The Alzheimer's Association is the world's leading voluntary health organization in Alzheimer's research, care and support. Our mission is to eliminate Alzheimer's disease through the advancement of research; to provide and enhance care and support for all affected; and to reduce the risk of dementia through the promotion of brain health. Our vision is a world without Alzheimer's. The Alzheimer's Association, Greater New Jersey Chapter provides information, assistance and support to individuals with Alzheimer's disease, their families and caregivers as well as health care professionals. Services include a 24-hour Helpline; Care Consultations; Respite Care Assistance; Support Groups for Caregivers; Early-Stage Programming; training and education for families and professionals; safety services; and information on clinical trial opportunities. Please call 800.272.3900 or visit http://www.alz.org/nj for more information.
ASPIRE Metro magazine is a continuing story of spectacular design, incredible people, and intimate journeys into exclusive estates throughout the world. Commitment to visual brilliance, investment in the storytelling of luxury and culture, and a discerning editorial eye set ASPIRE Metro magazine apart as a renowned, first-in-class publication. Our love of the finer things, the human spirit, and unmatched style has elevated ASPIRE Metro to a position of earned influence with the most cultivated readers. For more information please visit: http://www.aspiremetro.com.
The Pearl is the anchor building of Edgewater Harbor, Edgewater NJ's newest luxury mixed-use community. Sitting on a rare strip of Hudson Riverfront, the Pearl boasts breathtaking views of the Manhattan Skyline and access to Edgewater Harbor's wide range of restaurants, shops, riverside parks and resort-style amenities. Nestled conveniently between the George Washington Bridge and the Lincoln Tunnel, and with two separate ferry options only minutes away, Edgewater Harbor and the Pearl are ideally situated for those commuting to New York City, be it for work or for pleasure. http://www.thePearlNJ.com