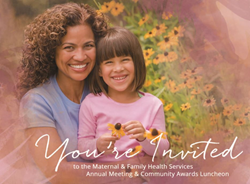 Wilkes-Barre, PA (PRWEB) October 16, 2015
Maternal & Family Health Services, Inc. (MFHS) announces that its 44th Annual Meeting of the Board of Directors and Community Awards Luncheon will take place on Wednesday, October 29th, 2014 at The Westmoreland Club, Wilkes-Barre. The agency will be presenting several awards, including the Rose Allan Tucker Award to Ellen E. Farrell of Prudential Retirement.
Maternal & Family Health Services began its journey of service in April 1971, with a vision to improve the quality of family life, promote responsible parenthood and coordinate effective service delivery in Northeastern Pennsylvania. Today, MFHS has grown to a regional organization serving over 110,000 individuals in 16 Pennsylvania counties.
The Rose Tucker Award is being presented to Ellen E. Farrell of Prudential Retirement for her continued dedication to improving the lives of women and families in Northeast Pennsylvania. Ellen has long been involved with community organizations like Dress for Success, Children's Advocacy Center, the CEO Food Bank and many others. She has led events for these organizations that support her passion to help those underserved in our community.
Three other awards will be presented during the MFHS 44th Annual Community Awards Luncheon. Luzerne County Head Start will be receiving the Outstanding Community Partner Award. The Outstanding Service Award is being presented to Marc Rabin, M.D. Finally, Barbara Bossi of Geisinger-CMC will be receiving the MFHS Champion Award.
The public can download the Annual Meeting invitation via the MFHS website. The luncheon reception is $25. Program advertising opportunities are also available.
Maternal and Family Health Services is a non-profit health and human service organization working to improve the health of Pennsylvania women and children by offering programs the prevent disease, promote wellness, and empower individuals to make healthy lifestyle choices. The agency oversees a network of health and nutrition centers in 16 Pennsylvania counties serving over 110,000 individuals each year through the following core programs: WIC Nutrition Program, Family Planning Program, Healthy Woman Cancer Screening Program, Nurse-Family Partnership, and the Healthy Beginnings Plus Prenatal Program. For more information call 1-800-367-6347, or visit http://www.mfhs.org or http://www.safeteens.org.