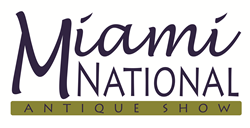 Miami, FL (PRWEB) December 12, 2014
U.S. Antique Shows recently announced that the Miami National Antique Show will be returning to the Miami Airport Convention Center, Jan. 24-26, 2015. The show will feature more than 100 established dealers with a complete mix of fine art, furnishings, home décor, and antique jewelry.
"January is a fantastic month to travel to Miami! Not only is the weather exceptional, but also our two unique antique shows are held in the same week during this month. Attendees will be able to find high quality antiques from dealers all over the world showcasing pieces seen nowhere else," says Dan Darby, Emerald Expositions vice president and U.S. Antique Shows general manager.
This year, the Miami National Antique Show will be one of two U.S. Antique Shows happening during the last week in January. The Original Miami Beach Antique Show, the world's largest indoor antique show, will take place Jan. 30-Feb. 3, 2015 at the Miami Beach Convention Center. These two stellar shows will be perfect for antique collectors, interior designers, local trendsetters, or anyone with an interest in antiques and antique jewelry.
In addition, the Miami National Antique Show is one of the longest-running antique events in south Florida during the winter season. The show annually attracts dealers from all across the globe to exhibit in Miami. For 2015, dealers have traveled from countries such as Argentina, the Czech Republic, Uruguay, Ireland, Germany, and the United Kingdom. The show also is positioned perfectly for serious buyers within the greater Miami area, located just minutes from the Miracle Mile in Coral Gables.
Jerry Friel of Jerry's Treasures has returned to the show after a few years' absence with high hopes for 2015. "We have increased our merchandise selection and have a fantastic booth location, so we're excited to showcase our fine gold jewelry to a variety of attendees."
Show times are Saturday, Jan. 24 and Sunday, Jan. 25 from 12-7 p.m. and Monday, Jan. 26 from 12-5 p.m. Admission is $15 for all three show days. For more information about the show or to purchase tickets, call 239.732.6642 or visit http://www.MiamiNationalAntiqueShow.com.
###
About U.S. Antique Shows
U.S. Antique Shows, producer of the industry's most anticipated events, serves the unique needs of the antique and antique jewelry marketplace with shows in Las Vegas, Los Angeles, Miami, Miami Beach and New York. The group's events offer a broad range of antiques as well as antique, vintage and estate jewelry and watches, and annually draws more than 50,000 consumers and 3,000 dealers from 28 countries worldwide.
U.S. Antique Shows is a division of Emerald Expositions, North America's largest owner and operator of business-to-business and consumer tradeshows. The company's jewelry portfolio is comprised of trade and consumer events including the U.S. Antique Shows division, Couture, JA New York (Summer and Winter), and JA Special Delivery.
For more information, visit http://www.USAntiqueShows.com, like us on Facebook: Facebook.com/MiamiNationalAntiqueShow, follow us on Twitter: @USAntiqueShows and explore our Pinterest: Pinterest.com/USAntiqueShows. Check out our new blog at http://www.USAntiqueShows.com/TheQuill.aspx.