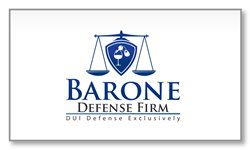 Gov. Snyder did the right thing by pardoning a man who made a single mistake six years ago, especially since Mr. Gocha served his punishment and is otherwise a responsible and productive member of our society
Birmingham, Michigan (PRWEB) April 07, 2015
Michigan citizens just witnessed something rarer than a blood red moon – Gov. Rick Snyder pardoned a DUI conviction. As reported March 27, 2015, in Crains's Detroit Business, the lucky recipient was Alan Gocha, a lawyer connected to the politically active billionaire founder of 5 hour energy drink. According to the DUI pardon application, Gotcha was convicted before Judge Small of the 48th District Court in case number 07 BT 26976A.
Birmingham-based Barone Defense Firm, a Michigan DUI law firm specializing in DUI defense, offers complimentary legal help for those who are less fortunate. "Michigan law provides that only an exceptionally rare pardon from the governor can clear a DUI from your record," Barone said. "For everyone else a DUI conviction follows you for life." Accordingly, the Barone Defense Firm is offering to complete and submit 10 no cost pardon applications, a service which might typically cost $2,500-$5,000.
"Gov. Snyder's main objective since taking office has been to rebuild Michigan's faltering economy. Unfortunately, Michigan's bad economy has resulted in a loss of population, and this is especially devastating the top producers that leave the state," Barone said. "Drunk driving convictions can similarly stigmatize a variety of professions, and this brain drain can result in our best educated leaving Michigan to find work or advance their careers."
This no-cost offer is available only to professionals who have had to relocate to another state because a DUI has negatively impacted their career prospects. Michigan citizens who are not professionals, or who have not yet left the state to find work can still apply for a pardon on their own. To this end the Barone Defense Firm has developed a DUI pardon website, to educate citizens about the pardon application process, and to provide complimentary access to the appropriate legal forms and information about how to fill them out.
"Too many people do not realize the lasting consequences of a DUI until after they've been convicted - and then it's too late. Once they figure it all out, they wish they'd have hired a more-expensive attorney to represent them in court," Barone said. "Since the DUI blot continues to follow a person around for life, and can cost hundreds of thousands of dollars in lost career opportunities, it makes sense to hire the best. Unlike much more serious crimes, a DUI never goes away."
In order to qualify for Barone Defense Firm consideration, the applicant must be professionally employed, and be able to demonstrate that he or she was forced to leave Michigan for career purposes due to a DUI conviction. Applicants must have their complete criminal records available for inspection.
"Gov. Snyder did the right thing by pardoning a man who made a single mistake six years ago, especially since Mr. Gocha served his punishment and is otherwise a responsible and productive member of our society. My belief is that everyone should have the same opportunity to win back their lives," Barone said.
To be considered for assistance from Barone Defense Firm, applicants should send an email prior to April 27, 2015, to pardonmydui(at)baronedefensefirm(dot)com. Please include name, phone number and a description of the DUI case and the reason for leaving Michigan.
About Attorney Patrick Barone:
Patrick Barone is the founder and principal of Barone Defense Firm in Birmingham, Michigan, which exclusively practices DUI defense. He is well-known in the legal community as an attorney who has amassed extensive expertise in complex cases. He is the author of two books on drunk driving defense: Defending Drinking Drivers and The DUI Book—A Citizen's Guide to Understanding DUI Litigation in America. Mr. Barone has received certification from the manufacturer of the DataMaster as competent to operate, perform diagnostic verifications, and conduct calibration checks on the breathalyzer unit. He also has received instructor and practitioner certification for the National Highway Traffic Safety Administration's (NHTSA) standardized field sobriety tests. He is an adjunct professor at Thomas M. Cooley Law School.