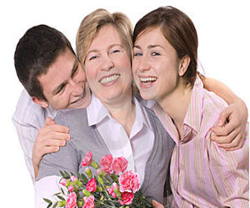 The logic behind the startling increase in need of DVD video software is that it can embellish holiday gift, such as Mother's Day gift, in a much more modern way.
(PRWEB) May 08, 2015
To celebrate Mother's Day this year, which is on May 10, 2015, Digiarty Software, Inc., a provider of multimedia programs with bleeding edge technologies, takes the role of a Mother's Day gift designer, blazes a trail for celebrating Mother's Day digitally and paves the way for all of its users by holding a great promotion with its top-ranking WinX DVD Ripper Platinum software at 50% off and WinX 2015 Holiday Video Pack with up to 75% off, until May 12.
Some data from CNN shows that, "More people purchase fresh flowers and plants for Mother's Day than for any other holiday except Christmas/Hanukkah". More statistics of expense on Mother's Day gifts also point to the importance of the day. Therefore, to cater to the trend of celebrating Mother's Day in an innovative way, Digiarty brings forth an affordable and memorable way, which is to edit family videos and then create a homemade DVD.
"The logic behind the startling growth in need of DVD video software is that such software enables users to DIY Mother's Day gift in a much more modern way," said Viola, Vice President of Digiarty. "26 is said to be the average age that a mom has her first baby in recent years. Flowers and cards are great, as always. An e-card would be a good shot for young mothers as well. Ripping DVD movies to easily watch on your home theater sounds warm and sweet. And burning precious days of the past to DVD to show moms your love and for saving forever will surely be a fancy gift. And we are proud to say that the last two can be achieved with WinX DVD Ripper Platinum and other Digiarty software."
With expertise in De-interlace and Hyper-threading tech, WinX DVD Ripper Platinum is professionally built to backup movie DVDs, be they homemade or commercial, featuring fast DVD ripping speed, abundant input and output formats, solid stability and timely technical support. Right before Mother's Day, it can be used to:

Convert DVD movies best for moms to AVI, MP4, H.264, MOV, WMV, MPEG, MTS, FLV, etc for family enjoying on PC, Mac, Apple TV and various portable devices;
Rip movie DVDs to iPhone 6/Plus, iPad Air 2, Samsung Galaxy Note 4, HTC, WP8, Surface, Sony PSP, Xperia, and many more gadgets for freely accessing on the way;
Back up DVD movies to ISO image for later burning or to DVD folder with exactly original video/audio data for not a bit quality loss.
Price and Availability
Digiarty announces that this Mother's Day Promo will continue well into March 12th for everyone coming to the two deal links unveiled below. Full versions of WinX DVD Ripper Platinum and DVD Ripper for Mac are set to be accessible at 29.95 USD for 1 PC (originally at $59.95 and $45.95). Please refer to the following links for detailed info about the Mother's Day promo for both Windows and Mac:
http://www.winxdvd.com/specialoffer/mothers-day-promo.htm
http://www.winxdvd.com/specialoffer/mothers-day-promo-mac.htm
About Digiarty Software Inc.
Digiarty Software, Inc. specializes in facilitating the playback of multimedia and backup of DVDs, based on Windows (up to 8.1), Mac OS X (up to 10.10.1) and iOS (up to 8.2). Its technology and applications bring great convenience to a broad range of groups, families and individuals. Its business scope covers DVD Rippers, Video Converters, DVD Author, DVD copy software, online video downloader, audio video player, multimedia streaming app and so on across Apple, Android, Microsoft, Samsung, HTC, Google, Sony and other platforms or devices.