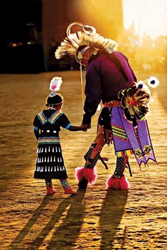 An Experiment in Humanity
Berryville, Virginia (PRWEB) September 30, 2015
"Clarke County is thrilled to host this first time event,"The Gathering," celebrating environmental, cultural, and the present day indigenous population here in Virginia. We are excited to have a chance to have a 'shared' experience for multi-generational families. The event will engage visitors to talk about cultural diversity and many issues facing all humanity today," said Tracey Pitcock, Recreation Program Coordinator for Clarke County.
A drum circle event was held on September 28th at Claremont Farm. On October 17th, a preview of the event will take place. Kim Ragland at Boyd's Nest Restaurant actually planted the food (corn, beans and squash), to grow and feed Three Sisters Stew to the Indian dancers and elders. Ragland also learned to make Indian fry bread and plans to serve up samples during the Farmers Market on Oct. 17. In addition, on Oct. 17, the Barns of Rose Hill offers a spectacular Native American trio featuring Native American matinee with icon Dennis Banks, Three Sisters Art Challenge artist's reception and Dark Water Rising live rocky soul concert.
WHO ARE VIRGINIA INDIANS? Virginia Indian history dates back more than 10,000 years with a history rich and written on the hearts and in the minds of their descendants who are now the keepers of the culture and teachers of a way of life. Local couple Chris and Rene' White with Sanctuary on the Trail™ found a Paleo-Indian site in Clarke County with artifacts that dated last used 10,470 years ago. The local Holy Cross Abbey at Cool Springs Farm has Indian artifacts crafted continually between 10,500 to 300 years before present.
"How do Native Americans create artifacts? Why are corn, beans and squash so significant to Native Americans? Why are sharing, storytelling, dance and song so important? Do Native Americans still hold onto these principles of life? Do they self-identify as Indians? Come to "The Gathering" to learn more. Share in the experience of Native American culture that is alive and flourishing, with a people rich in the knowledge of their ancestral lands and cultural expressions. We are still here!" saids A'lice Myers-Hall, a volunteer for "The Gathering.".
"Much can be learned including survival skills and living better with our environment from the native American Indians," said Pitcock. "I am thrilled with the Kids Harvest Fest. Children here in America have very limited knowledge of the American Indian with much of it coming from old movies of cowboys killing Indians. We are thrilled to have John Steinbach as our games coordinator. A naturalist and geocaching expert, Steinbach will lead the Native American children games. Sheila Henson of the Shawnee tribe will give us the secret of why the cornhusk dolls have no face. Plus there will be dancing for children and lots of story-telling."
"This is not about the past and the celebration of the first Thanksgiving but about today's indigenous population here in Virginia. The goal of this event is to shape the future and how the indigenous people are perceived. Our hope is that visitors will gain a respect for the Native American Indian and the skills of life they bring to the harvest table. " said Rene White, Executive Director.
"Chris (Comeswithclouds) White, "The only barrier that exists are in language - we are all products of the Creator."
In Virginia, despite the Indian Removals of the 1800's, eugenics of Dr. Walter Pleckor that lasted until 1946, and absence of federal recognition, 11 Native Tribes still live and thrive here in Virginia; along with countless other indigenous individuals from across the Americas who call Virginia and Clarke County home.
Visit the rich history and rural beauty of this charming Blue Ridge Mountain and Shenandoah Valley landscape. Clarke County is an oasis for the Washington, DC and Northern Virginia traveler. Just 60 miles west of Washington, DC, 12 miles from Hollywood Casino and Race Track and 16 miles from historic Harpers Ferry, Clarke County is now home to "The Gathering."
The Gathering is hosted by the non-profit federally recognized Sanctuary on the Trail™ in partnership with the with the support of the Red Road Foundation™, Nowa Cumig Institute™, and Clarke County Parks and Recreation.
"Until "The Gathering," we hear the heartbeat of the drum, calling each of us home to the circle in which we are all one. Each beat echos in our hearts and invokes our spirit. Our ancestors sing out to us, their voices riding on the wind. "Do not forget." We are still here." said A'lice Myers-Hall, a volunteer for "The Gathering."
About GoBlueRidgeTravel.com
Launched in December 2011, Go Blue Ridge Travel (GoBRT) is an e-commerce marketing company using digital internet channels to both create a travel ecosystem community. Founded and owned by Nancy Craun who grew up in the area and has 30 years of experience in the event planning, restaurant, hotel, and marketing arenas. GoBRT covers 160 plus mile radius of the Interstate 81 Corridor spanning the states of Virginia, West Virginia, and Maryland. In 2014, the Kids Trail was launched with grants from Virginia Tourism and now has over sixty partners with a mission to showcase multi-generational travel in the Blue Ridge Mountains and Shenandoah Valley.
Contact: Nancy Craun Founder and President GoBlueRidgeTravel.com and ShenandoahValleyKidsTrail.com Phone: 540.533.1853 Email: info(at)GoBlueRidgeTravel(dot)com